In eCommerce, Shopify and BigCommerce are the two most popular, fastest growing eCommerce platforms, offering platforms with robust features, responsive design and mobile optimization, simple user interface, and reliable customer support.
If you're planning to build an eCommerce website, you often hear the two names Shopify and BigCommerce. While both Shopify, as well as BigCommerce, rank at the top as eCommerce platforms. But when it comes to Shopify and BigCommerce, which one is the best, and which one should you choose for your online store?
Shopify is a well-established platform. It is an ecommerce development platform that was founded in 2004. On the other hand, BigCommerce is a comparatively young company founded in 2009.
In this blog post, I'll explain the key differences between Shopify and BigCommerce, and which e-commerce solution is best for your business. So read this article to know the main differences between the two enterprise solutions of these platforms.
Shopify and Bigcommerce: Pricing
Let's start with pricing. Shopify and Bigcommerce offer free trials, Shopify offers 14 days free trial. However, Shopify offers five pricing plans, and Bigcommerce offers four. The first question is which potential users have about Shopify and Bigcommerce is, "how much do they cost"?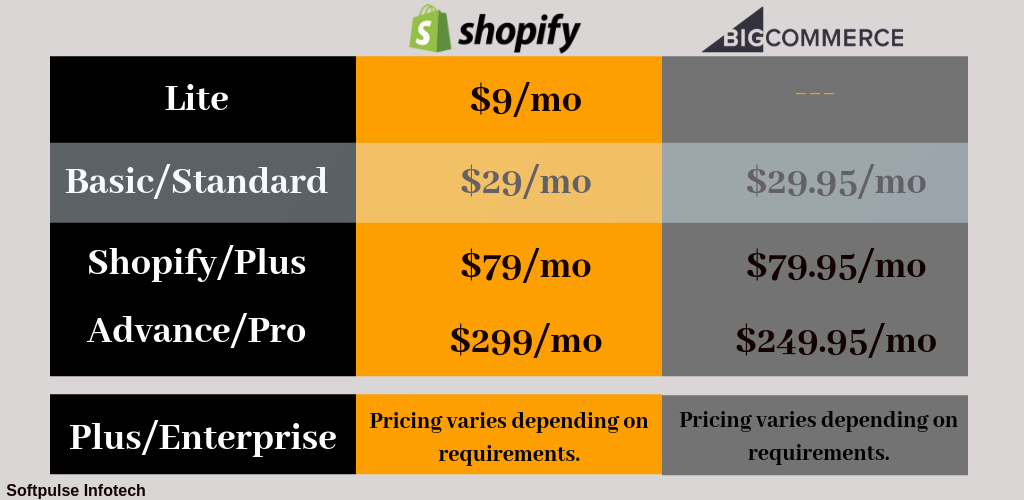 Shopify platform offers more advantages for earning high revenue. Shopify offers many and more integrations for dropshipping, though. There's integration for Oberlo and Inventory Source, but on BigCommerce, there needs to be someone on the app store for Doba. Oberlo is more like a Shopify thing, so it's not for BigCommerce. Hence, choosing Shopify development for your online store will be a better ride.
Shopify and BigCommerce are both huge brands in developing online stores. It doesn't matter which ecommerce platform you can choose. You'll receive service par perfection. But talking about the winner, we'd name it Shopify.
Overall, regarding pricing, both ecommerce platforms look approximately the same. The only difference is Shopify's offer lite plan, which is $9/mo, a great low-cost option to get into the globe of ecommerce.
Shopify and Bigcommerce: Features
Let's set one thing straight: Shopify and BigCommerce offer a wide range of features, and both platforms come with every standard ecommerce feature to set up and run a very professional online store. Shopify has its own Shopify app store.

When comparing both Shopify and BigCommerce, you'll be glad to know that both will give you the following:
First Unlimited products
Second Unlimited orders in your store
Third Unlimited disk space
Fourth Unlimited bandwidth
24/7 support
Point of sale
Your store optimized for mobile
Credit card processing
Multiple online gateway systems
Shipping integrations
Tax calculation automation
Customer accounts
SEO (search engine optimization) right out the gate
Free SSL integration
Tools to sell via social signals
Inventory management
Sales reports
The main features of the Bigcommerce platform include
Free and paid responsive themes that are very easy to customize
Secure shopping cart
Inventory management
Multi-currency support
Some of the main features of the Shopify platform
Large selection of themes available from Shopify
Integration with over 50+ payment gateways + Shopify Payments
Inventory management
The mobile application so you can easily manage your online store on the go
Key features of Shopify and Bigcommerce, Payment gateways, Product categories, Product options, Text fields, file uploads, Importing and exporting products/data in Bigcommerce and Shopify, Blogging, Abandoned cart recovery, Analytics, and Buying domains.
Shopify and Bigcommerce: Payment Processing
Regarding payment options, Shopify Plus and BigCommerce Enterprise work well with leading third-party payment processors like (PayPal, Authorize.Net, and Sage Payment Solutions).
BigCommerce Enterprise: BigCommerce has 50+ payment gateways, including popular ones such as PayPal.
Other offer integrations to the most popular digital wallets, such as Apple Pay and Amazon Pay.
Shopify Plus: Shopify Plus connects with over 90+ payment gateway options it is double the amount of BigCommerce offers. Shopify has its own payment gateway through what they call Shopify Payments.
As Shopify connects around 90+ payment gateway options, it is better than the BigCommerce enterprise payment process.
Shopify and Bigcommerce: Pros and Cons
Shopify Pros and Cons
On this platform, Shopify is the best overall ecommerce platform. It's ideal for more prominent retail brands looking to scale. You'll enjoy its robust product search.
Shopify Pros:
Easy to set up your online store
Brilliant inventory system
Large selection of third-party apps
More payment gateways are available
Faster load time and speed
Shopify Cons:
You may need third-party apps to get specific capabilities
SEO features are not as strong
Transaction charges for third-party gateways
BigCommerce Pros and Cons
While using Bigcommerce, if you're new to ecommerce and need a direction to brand, there's a lot of help for newcomers.
BigCommerce Pros:
Better SEO for page optimization
Real-time shipping quotes
Mobile responsive themes
BigCommerce Cons:
Fewer themes to choose from
Selling limits
No mobile app
The editing interface is difficult to navigate
Compared to Shopify, BigCommerce has extraordinary credit card processing charges.
Shopify and Bigcommerce: Which is better?
Both are winners at various levels in the debate of Shopify vs. BigCommerce. No anything wrong choice when it comes to picking between Shopify and BigCommerce. Both platforms offer a free trial with similar pricing and similar features.
Shopify is easier to use and is the best comprehensive eCommerce platform. Shopify has a slightly more mature third-party ecosystem. On Shopify, you can access a more active community of developers, designers, etc. On the other hand, Bigcommerce does give you some advanced features. If you are a beginner and serious about advanced service, then Shopify can work well for you.
Overall our experiment found Shopify is the best ecommerce builder on the market if you have a well-defined brand and want to scale your business, Shopify Experts.
Why Use Shopify Over BigCommerce
Shopify is the business leader for a reason. Shopify knows that retailers' benefits are tied to their success. They are defining the future of ecommerce.
For 1-click upsells
The Lite plan $9/mo allows you to start selling goods online
It is arguably better for dropshipping
You want more apps and a larger support ecosystem
iOS and Android apps are available for managing your online store
Do you like Shopify Themes
No limits on the number of sales for your store.
If you have queries on Shopify vs. BigCommerce, feel free to share them in the comments below. Contact us for consultation if you wish to hire Shopify development services from our experts.