One of the essential e-commerce marketing strategies is to overcome the bounce rate. A higher bounce rate is scary if you run an e-commerce store, as it impacts several things, including your organic search ranking. Fortunately, Poor design, confusing navigation, and insufficient functionality can increase your bounce rate, leading to poor conversion rates.
Bounce rate measures the percentage of users who leave your website after visiting only one page. For most, eCommerce store owners need to focus on reducing their site bounce rate. Still, content, marketing, marketing, and social media are more important than a site bounce rate. You can quickly reduce your eCommerce bounce rate with minor improvements to your website.
How do you improve your website sales? How do you overcome your website bounce rate? We are Shopify experts at Softpulse Infotech understand the importance of keeping customers on your website so that you can make a sale. Here's our guide on how to overcome the bounce rate on your Shopify store.
What is "Bounce Rate"?
Then, the "Bounce rate" is the percentage of single visits compared to total site visits. Bounce rate refers to the number of your total website visitors who leave the website after seeing just one page and don't click further. Mainly they do not click on any of your internal links or CTAs. As a general rule, visitors bounce when they need help finding what they are looking for. For Example, Say you have 100 visitors in one day, and 25 of those visitors only visit a single page of your site (this is usually your home page), then your bounce rate is 25%.
What is the Difference Between "Bounce Rate and Exit Rate"?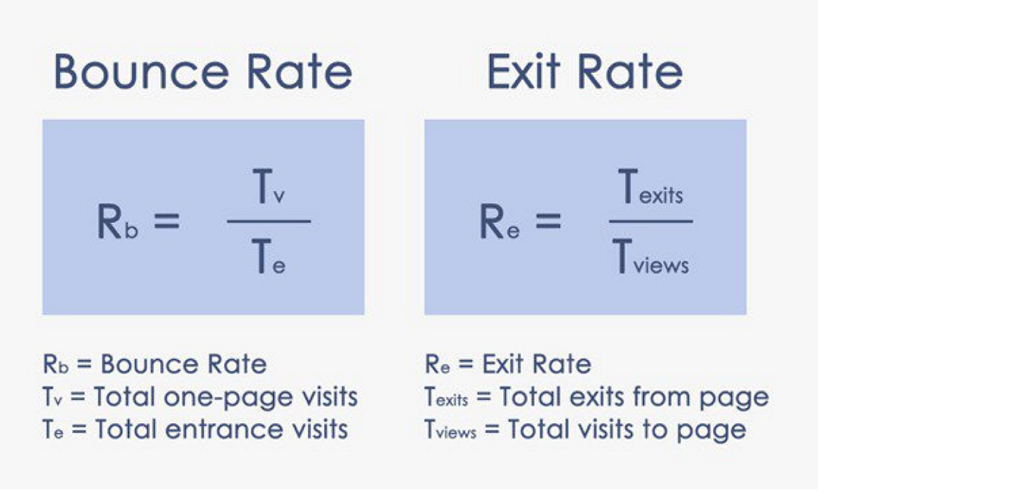 Most business owners confuse "what is exit rate and bounce rate." They are not the same metrics.
The exit rate tells you how many percent of visitors viewed or clicked a page as the last in a session. For instance, the visitor might have gone to your home page, blog page, and contact us page.
The contact us page is considered an exit page because that's the page on which the visitor eventually exited your site. It means the last one is the exit page.
The bounce rate is the percentage of people who enter your website page and immediately leave without visiting anything else. Bounces rates are always a single page in a session.
How Do I Find My Website Bounce Rate?
Now that you're familiar with bounce rates, it is essential to know how to monitor your bounce rate. If you do not confirm your bounce rate, use your Google Analytics account. You can install this into your Shopify store
Signing up your store on Google
Getting your tracking ID
Saving it into Shopify's Preferences
It will have a full report on your site. You can view how long visitors have been on your site, which pages they have accessed, and even their demographic information.
The higher bounce rate is not suitable for your website. When visitors visit your website without visiting more than one page, google will flag this and use it to lower your ranking on the search engine results page (SERP).
What Causes and How to Reduce A high Bounce Rate in Shopify Stores?
Now that you understand what bounce rate is & what it is based on, let's see how we can reduce it. Our main goal is that the longer your customers stay on your website, the more likely they will make a purchase. Let's go over some ideas for each of these situations. We at Softpulse Infotech and our professional Shopify developers suggest the following points.
Audit your website for quality and SEO
Evaluate your content strategy and use interactive content
Make sure your content is more readable and accessible
Do not try to trick your users with fake content
Insert helpful and strategic internal links
Optimize your internal linking strategy
Open external links in a new tab
Improve landing page aesthetic and quality
Try different and unique CTA
Add videos to your articles
Improve User Experience/User Interface
Conclusion
Most companies want to know how to reduce bounce rates. That's natural. If you have a high bounce rate, you can follow this strategy that numbers down & keeps more people in your store. If you need more than your efforts, hire a dedicated developer to optimize your store and support you in managing your online presence. Check out our portfolio and our other excellent services.
We also have other terrific blogs, such as How to Increase Your Sales on Shopify and Tips to Hire the Best Shopify Developer. We are Softpulse Infotech, a Top Shopify development company & professional website developer team.