E-commerce has completely transformed the way businesses operate today. Customers used to spend time, money, and travel to a certain location to purchase a product or receive a service from a merchant, but today everything is available at their fingertips. As a result, there is a need to create e-commerce businesses that are visually appealing while also being functional. Popular e-commerce platforms include Magento, WooCommerce, OpenCart, and BigCommerce. Apart from that, Shopify is the greatest option for sellers that require quality and efficiency, as well as simplicity and a wide range of features.
It takes time, patience, and a lot of effort to build an ecommerce business. Staying relevant and paying attention to trends, moreover, keeps the company afloat. It's critical to stay current in today's fast-paced, ever-changing industry, especially for e-commerce enterprises. Customers' needs grow at an exponential rate and change every two weeks. With hundreds of thousands of e-commerce enterprises online, remaining on top and building a name for yourself is not only difficult but also risky.
As a result, SEO (Search Engine Optimization) is more critical than ever. SEO is a common digital marketing method for increasing website traffic. SEO is the practice of making a website more visible to users of search engines such as Google, Yahoo, and Bing. Whether your company is large or little, a startup or a well-established organization, SEO is required to enhance the revenue of your e-commerce website.
In this article, we are going to help you explore popular ecommerce platforms for SEO in 2021, so let's move on here is a brief explanation of the eCommerce platform.
For Shopify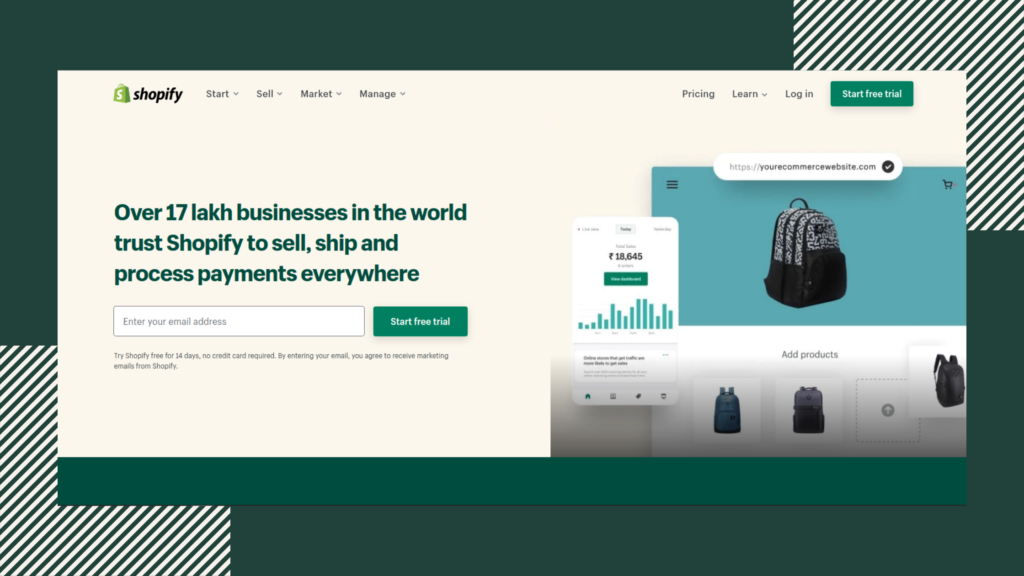 Shopify is a simple to set up and use cloud-based platform. It is the greatest option for individuals who want a complete solution without having to deal with the technical aspects of developing and running an online store. This allows sellers to create their own customizable, scalable online selling store with hundreds of amazing built-in features without having to know anything about web programming or hosting. The platform provides the necessary software and hosting for the website's debut. The admin interface is simple and easy to use, and the user interface is appealing too.
Once your store is up and running, it's critical to optimize it for search engines. SEO is critical for ensuring that buyers looking for your products can simply find your website. Shopify distinguishes itself from other eCommerce systems by improving the ability to develop landing pages for campaigns. It also has SEO features such as custom title tags and meta tags.
Shopify's various plans also include the ability to create a blog, which may be quite beneficial to your content marketing strategy. You can also use attractive landing pages to promote your pay-per-click advertisements and rely on clean code to boost your website's ranking. Better control over site architecture, information for various items such as photos, and sitemaps is also possible with the platform.
Features of Shopify Online Store
Subscription-based service.
A subdomain and hosting space for your eCommerce store included & you can hook up your domain name.
Product, Order & Basic customer management features.
Multiple payment gateways & Shopify Payment
100+ professional themes, plus hundreds more third-party.
Mobile-optimised & you can edit CSS and HTML directly.
Drag & drop website builder.
Good reports on sales and store activity.
Discounts, gift cards, and coupon codes.
Thousands of Shopify apps are available on the Shopify App Store.
Different sales channels, Facebook module, including Point of Sale, simple buy button, and others.
Highest Shopify SEO Score 98.
For Magento: Adobe Commerce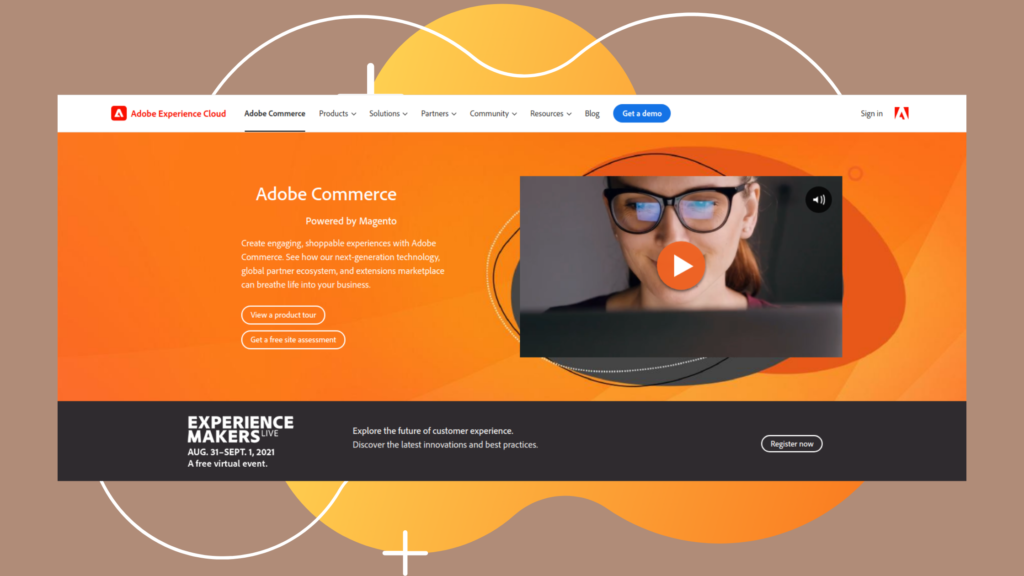 In the market, Magento is the biggest ecommerce website builder for brands. It's the most used platform. Magento is mobile-friendly, but with an open-source platform. You can get additional ecommerce apps & extensions through Magento Marketplace.
Social integration is good to get your website popular & help to boost your sales. They also provide several alternatives for redesigning the look of your store. The platform includes many professional templates that make it easy to build visually appealing stores. You may not only make it appealing, but you can also do so in a way that will maximize conversions. Smooth and right navigational menus and well-timed Calls to action are among these elements.
Features of Magento
Subscription-based service.
A subdomain and hosting space for your eCommerce store included & you can add your domain name.
Easily manage your store with order & product management features.
Multiple payment options.
Lots of users & community with developer skills.
Free & paid best professional themes, apps & add-ons.
Mobile-friendly.
Great analytics module with purchase funnels, reports, abandoned carts stats, etc.
Discounts and coupon codes & Unlimited bandwidth.
Let's you sell on marketplaces and social media platforms.
Magento's strong SEO score is 95.
For BigCommerce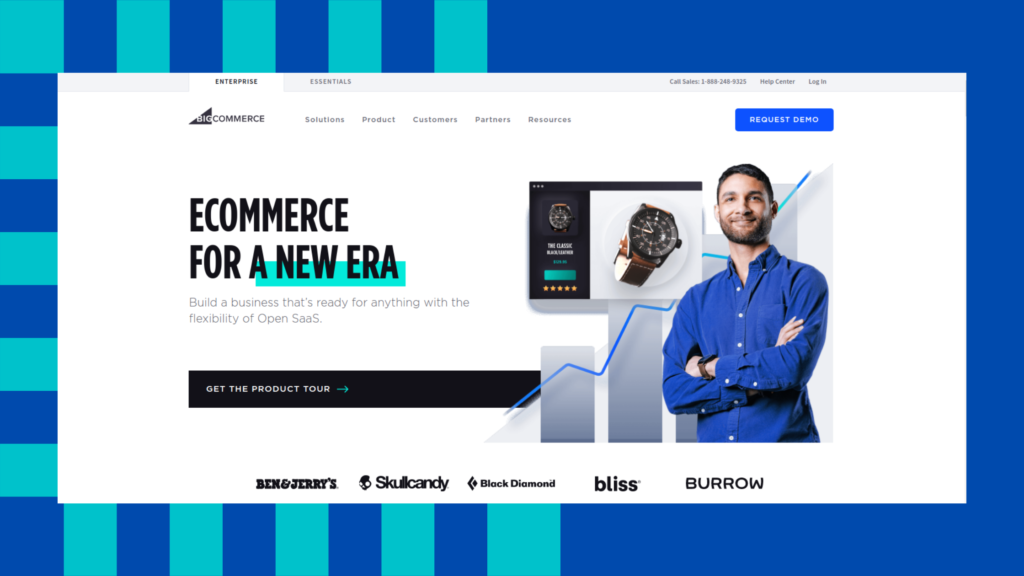 Bigcommerce is also a good choice to get start your ecommerce business. A stunning collection of themes with advanced & customizable templates in the store. Also provides you with excellent ecommerce tools to boost your business with a variety of features & options.
Easy to use interface, without much knowledge of coding you can customize & design your store & sell your products. There is a broad community of developers & designers to help solve your problems & errors. BigCommerce has several different plans, each with its own set of features. Offer numerous plans, your choice to choose from. All of this implies that you don't have to commit to unnecessary features at a greater price if you don't know how well you'll do in the short run.
Features of BigCommerce
Standalone software & subscription-based service.
A subdomain and hosting space for your eCommerce store included & you can hook up your domain name.
Product & Order management features (+ shipping charges).
Multiple payment gateways.
Customer management through customer groups and others.
Some themes are available on the web with customization options.
Mobile-optimized structure.
More than 5,000 extensions are available.
Built-in multilingual support. Newsletter features. API is available.
BigCommerce SEO score is 91.
For Wix Ecommerce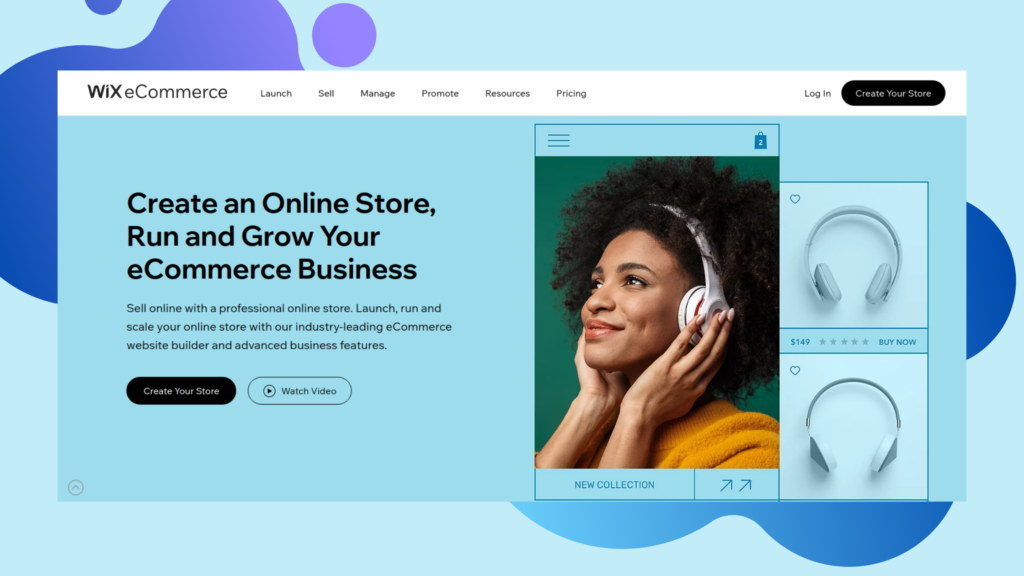 Wix is a beginner-friendly website builder ecommerce platform. They deliver amazing value for small ecommerce businesses like multichannel integration, AI-supported branding, abandoned cart recovery & so on.
On these platforms, you get a chance to choose 500+ templates (free mobile-optimized ecommerce templates) & create your store in 80+ languages for global reach. You can drag & drop elements to add photos & videos to create the website you want. Some feature a dependable infrastructure, as well as efficient hardware and software, as a globally hosted e-commerce solution. This gives the eCommerce platform a fast loading speed, and the eCommerce sites developed on it load faster for users.
Features of Wix Ecommerce
Subscription-based service.
A subdomain and hosting space for your eCommerce store included & a free custom domain name (or connect your own)
Product & Order management features.
Multiple payment gateways & integration.
Basic customer management.
500+ great templates with customization options built-in.
Mobile-friendly & User friendly.
Add product photos & videos for better engagement with buyers.
Discounts and coupon codes.
Okay, reports on sales and store activity.
Built-in dropshipping via Modalyst.
Lots of Wix apps & plugins are available for extra functionality.
Wix Ecommerce SEO score is 75.
List of SEO Factors for Ecommerce Platforms
We know tricky it can be to decide which ecommerce platform is best? Softpulse Infotech have worked with 700+ ecommerce clients. We believe that these factors are plays an important role to rank a store in the search engine. Remember, these factors when choosing the best ecommerce factors.

Use Of Own Domain Name
H1 Headings
Navigation Links
Page URLs
Canonical URLs
Auto XML Sitemap
Internal Site Search
Page Meta Titles & Meta Descriptions
Image ALT Tags
Integrated Blogging Platform
301 redirects
Robots Noindex Capabilities
Your IP address
Product Reviews & Features Products
Social Sharing Buttons
Wrapping It Up
In this article, We have introduced you to some best ecommerce platforms with the SEO score. Some platforms are free trial & paid versions. So you can try any of them without spending a single dollar. Now, you're ready to pick up the best ecommerce platform to build your store & start your online business.
Implementing efficient SEO tactics may be difficult for new firms at first, but it is well worth the effort. Brands and businesses should never underestimate the value of SEO planning. It has a lot of promise and can help you scale up your business. Search engine optimization can increase your e-commerce site's sales and revenue, as well as position you as the industry leader. And the good news is that, when compared to the long-term effects of SEO, your investment will pay for itself in a very short time.
With so many great features, Shopify is undeniably one of the greatest options for online store owners. Merchants may quickly construct new online stores on this platform or migrate their existing ones to Shopify. If you're thinking about starting an eCommerce store or already have one, now is the time to invest in Shopify Development Services.