Covid-19 has changed the business standards of the world. Many businesses have gone into storms. Meanwhile, many have witnessed the never seen before rising. Covid has worked like a transformation for businesses. The smallest business owners are now aware of the power of digitalization.
ECommerce retailers have seen a huge demand rise. Due to the risks of getting infected, more and more users are turning to online shopping. Many brick-and-mortar retailers are also establishing their online marketplace.
The eCommerce industry itself is going through so many transitions. So many new trends are coming into existence. We will discuss a few eCommerce trends during/post-Covid-19 that will rule the industry. Let's discuss them one by one.
The demand for online grocery is rising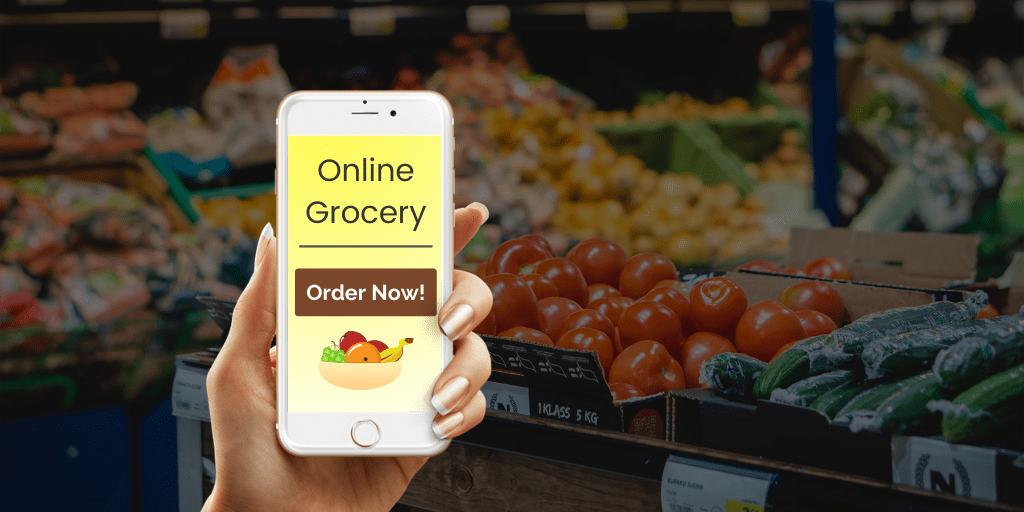 Well, it is the most obvious. More and more consumers are looking for online grocery & essentials service providers. It is getting harder to follow all the Covid-19 guidelines at the local grocery shops. By looking at all the odds, Online grocery shopping is emerging as the best bet.
If you are an offline grocery business holder, it's better to also get into an online marketplace. The agencies like us are also helping businesses in setting up online stores. It's high time to tap into the bigger and more rewarding market.
Covid-19 essentials products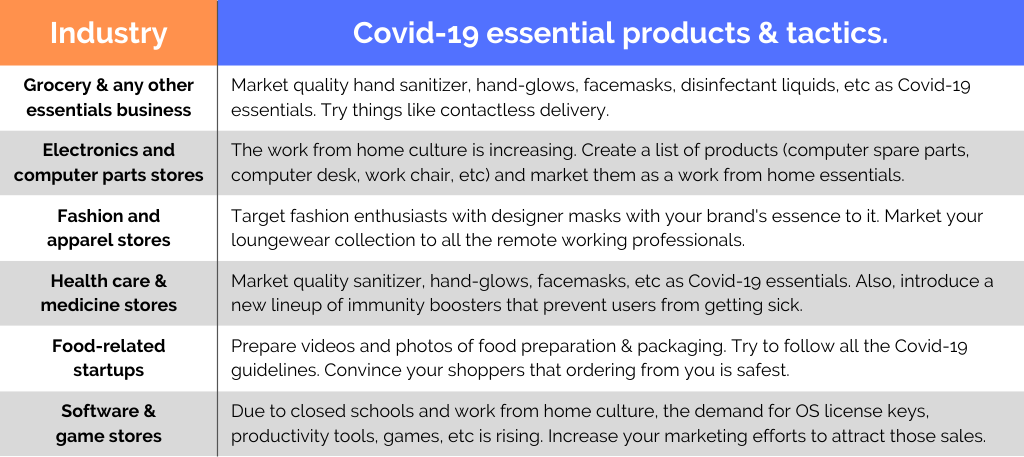 No matter your business, you must come up with Covid-19 essentials products. Products such as sanitizer, gloves, masks, etc., must be included in your inventory. Please make a list of a few relevant products, and market them as Covid-19 essential. Below is a little chart of a few leading industries with relevant Covid-19 essential products.
SEO will be the best bet
People are spending more and more time on the internet. And considering the consequences of the pandemic, Google will also tweak its algorithms more than ever. They will ensure that the users get the most accurate information during this unprecedented time.
The importance of organic visibility on the SERP will be the key factor behind the traffic and conversion. If your business ranks well on SERP, try to retain the position. This is what will become the key driving factor behind the conversions.
Leverage changing consumer behavior
The consumer's behavior is changing. According to the survey, 24% of customers still fear going out. They won't go to malls and supermarkets for the next few months. The new normal will be quite different.
And this is where the opportunity arises for online retailers. The online demand for all consumer goods will see a rise. It's time to increase your marketing efforts and attract as many sales as possible.
Improve your social media efforts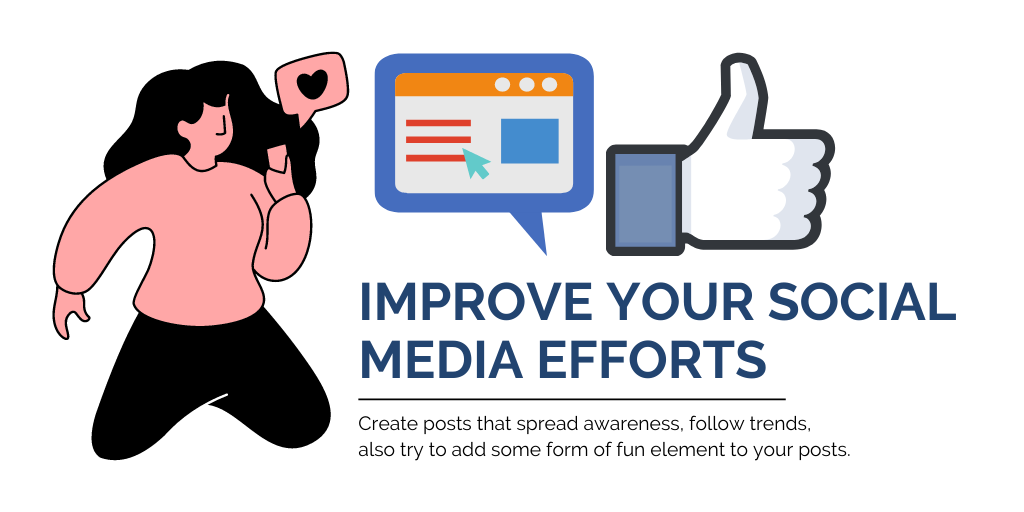 The consumption of social media and OTT platforms has seen an all-time rise. The schools and colleges are closed. Working from home is also becoming the new norm. The shop owners also get more free hours due to less customer traction.
Hence students, professionals, shop owners, etc., are spending more hours on social media. It's time to re-invent the new social media strategy. Think of your social media from a completely new perspective. Create posts that spread awareness, follow trends, and also try adding some fun elements to your posts.
Change in product choices during the pandemic
More and more consumers are moving towards eCommerce, and their product choices are also changing. Apart from life essentials such as groceries and medicines, all other businesses have seen a drop in their demands. The worst affected industries are fashion, beauty & personal care, home appliances, and the automobile industry.
Even many retailers have witnessed 0% sales in their lifetime, which is the hardest fact to digest. These businesses must develop new strategies to grab the user's attention. Prepare new strategies that can increase the consumer's confidence and are much more affordable.
It's time for category expansion
Products such as masks, sanitizers, gloves, disinfectants, etc., have become a basic necessity. During the initial period of the pandemic, many medical shops were also facing the problem of a shortage of sensitizing liquids.
It's time to include all the Covid-19 essentials in your inventory. Come up with your versions of products. Try to make them relevant according to your business domain. The businesses such as essential stores, fashion stores, beauty & personal care stores, etc., can easily include them in their product portfolio.
Manage your PPC budgets efficiently
Even though e-commerce demand is increasing, only businesses related to essentials, health products, and entertainment products have seen the rise. The demand for all other products is still low. Hence if you are running a PPC campaign, you must manage your funds effectively. These are a few things you need to keep in mind.
Remove all the upper funnel keywords whose demand is declining. And only focus on keywords with a high likelihood of driving conversion. And don't completely stop your campaign. Once you restart them, you may have to bear the higher CPCs.
The bottom line: It's time to adapt to the new normal
Covid-19 has surely shaken up the world with its terror. The buying habits of the consumer are changing. It's time for businesses to get used to the new normal and get the most out of the situation. It's time to create new business strategies that adapt to the change. It's time to accept the change, apply the marketing mind, and get better business benefits.
We hope this article helps you understand the changing eCommerce trends during Covid-19. We are a renowned eCommerce website development company. Our service catalog includes all Shopify services, mobile app development, and digital marketing. With the longest presence in the industry, we have established an impressive international clientele. For any inquiries related to business, feel free to contact us at info@softpulseinfotech.com.