We are an IT-based organization with our main focus is to deliver the best ecommerce experience to our clients. Our highly focused platform for eCommerce development is Shopify. We are associated with small and large businesses all the way to enterprises. At Softpulse Infotech, we aim to empower ourselves with a piece of in-depth technical knowledge and expertise to deliver the best services in the diverse range of web development as well as mobile app development. Our ecommerce services include web development, web design, SEO, and mobile app development too. We are incredibly thankful for our client's & Clutch's support in our growing business. Clutch is a B2B research and reviews firm based in Washington, D.C. They take past client experiences of agencies and turns them into resources for prospective clients.
Our profile on Clutch holds a lot of information, most importantly, our customer reviews. In 2017 we created the e-commerce store of a window shade retailer. We also constructed their product portfolio. The customer's business was then able to run entirely through their website. We're feeling very proud to announce that Softpulse Infotech is the top Shopify development company on the Clutch.

We're proud of our reviews on Clutch and even more proud of the fact that all of our reviews are 5-stars rating!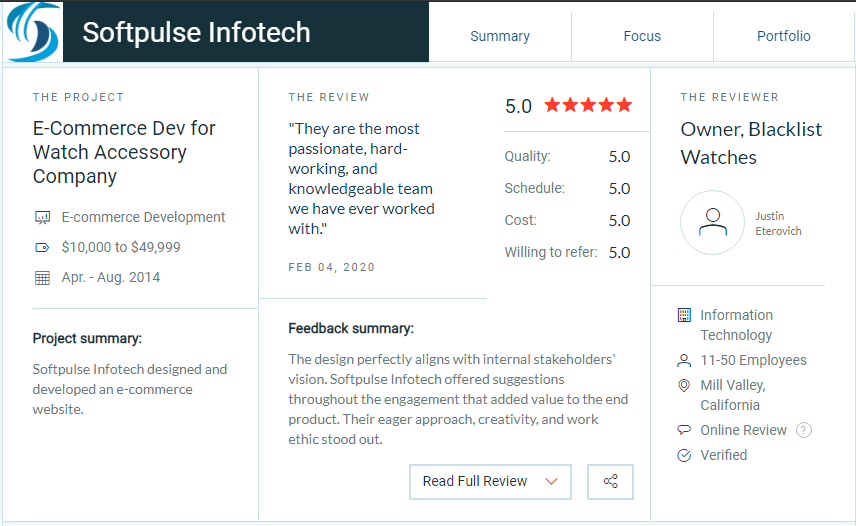 "The work culture there is great. The team is enthusiastic. They give their special suggestions and gave their contribution to all the areas where improvements were needed. We are very happy with their services." – Justin Rouzaud, Founder at Alva
Another one of our past projects was creating a website for a watch accessory company, showcasing the diversity in our clients. The client, Blacklist Watches, praises our ability to align the project with the stakeholders' vision. We were able to produce an excellent end product while combining our own opinions with those of the client.
"The project was managed most efficiently. They were letting us know about every single aspect of the store. For the majority of the time, they were before time. Most passionate, hard-working, and knowledgeable team we have ever worked with." – Justin Eterovich, Owner at Blacklist Watches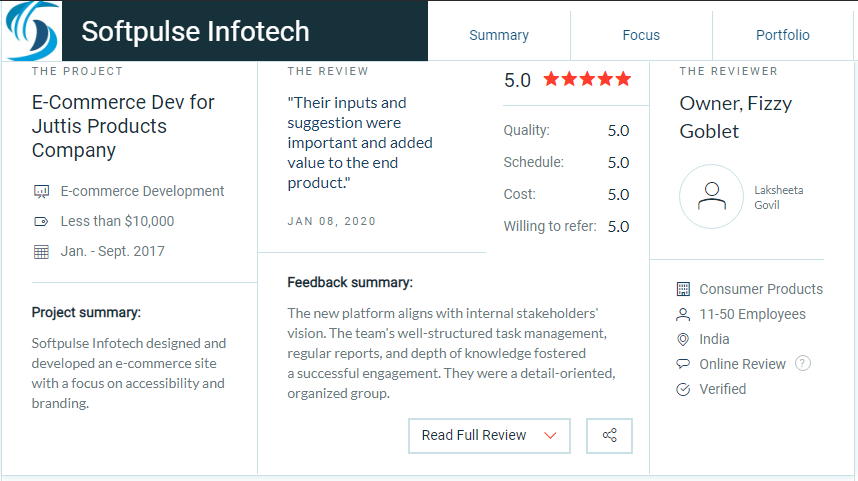 "The whole project management was good. It was being done with the utmost care and precision. The regular work reports & daily progress was delivered to us. Very few times, the work was delayed, but there were genuine reasons for that too. And team co-ordination was good. At every point, your opinions will be valued, and work will be done according to it." – Laksheeta Govil, Owner at Fizzy Goblet
Clutch has grown to work on more than just its original site. Clutch created "The Manifest", a blog-style site to help companies find the best match when it comes to an agency or consultant. Each shortlists features top-performing companies in a specific industry, often in a specific location to help narrow your search.
The Softpulse Infotech has always been focused on delivering the value and profitability of the clients. The absolute satisfaction of the clients has always been our motto. Whenever any new project comes to our doorsteps, it goes by a thorough discussion and research phase. With every project, we make sure that the design is representing the heart & soul of any business. And the wide variety of Shopify apps developed by us has also attracted our clients. Our vast collection of Shopify apps has helped them in adding a variety of new features in their stores.
The Clutch's support for our business will always be appreciated and valued. Our profile and the ratings on Clutch has helped us increase our credibility in the industry. Such support and appreciation by our clients will always inspire us to deliver even better results. And above all, the appreciation from Clutch has boosted the enthusiasm & spirit of the team too. The hard work & support of the team have helped the organization reaching the heights of success. And the immeasurable contribution of our founders will always be appreciated too. Without their business excellence, domain expertise, and leadership, we would not even reach half the position where we are today.
Clutch's continuous support will help our brand grow even more in the future. Our website is home to even more information, including a full explanation of all of our offered services, portfolio, and client testimonials. Always feel free to contact us or live chat with us to let us know how we can create a great website for your company. And at last, be sure to check out our portfolio to get an idea of the development work we do.