Sometimes, it becomes tough to handle a well-developed business as many things are involved within it, and a single person needs help. In this case, tools are beneficial to make everything relatively more manageable as it aligns everything easier. It offers a better solution to enterprises. Besides this, there are many other benefits of using such enterprise mobile apps, and here in this post, we will discuss all these mobile enterprise apps in detail. Let's check out all the information below and understand them better.

What is enterprise mobile app development?
Enterprise mobile app development is the process of developing mobile applications so that it becomes easier to handle all the tasks within the company. Before moving to the topic, you must understand it. Here are a few of them:

Helpful for companies to update their data
Beneficial for the companies in dividing goals among the employees
It is essential to reduce the expenses among the different departments
To offers a centralized place to handle all the task within the company
What are the other things that are included within enterprise mobile apps? Here are four technologies.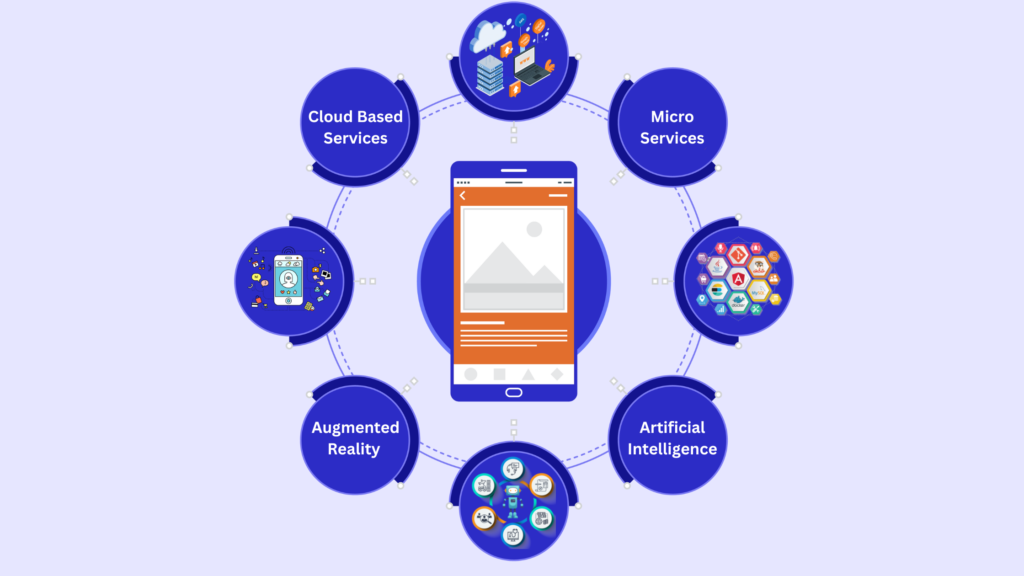 Cloud-based Services
Cloud-based services are beneficial in reducing the cost of making the apps and making them easily accessed by small-scale and large-scale businesses. With the expansion in technology, cloud-based services have helped business owners reduce their costs for application development.

Microservices
Microservices are the collection of multiple services dependent upon each other but made with the help of different technologies. They have various tools available within them. The technology is beneficial in improving the security and reliability of the business.

Artificial Intelligence
Artificial intelligence and machine learning have taken business app development to new heights of success. It has helped companies in improving their customer experience and making them beat their competition.

What benefits of choosing an enterprise application for your business?
As we have discussed earlier, enterprise applications reduce business processes. Here we have reasons that make enterprise applications helpful for a business.

Reduces Losses
For a business owner, the main goal is to reduce business losses. In this case, business apps are very much beneficial in reducing losses.

Eases Payment Transactions
It takes a lot of work for a business owner to handle all the payments, especially when they are going on a website. Enterprise apps are very beneficial in reducing the stress related to handling payments. It eases the process of managing transactions, notifications, and many more.

Improve Revenue
Enterprise mobile apps are very much beneficial in reducing the revenue of a business. With the help of mobile enterprise apps, you can offer better services and solutions to your customers.

Low Risk
While working on the business, the loss chances become very common. So, with the help of enterprise mobile app development, one can reduce their chances of loss.

Make Management Easier
When a business starts growing, it becomes tough to manage. It results in the company's losses, but things become so much easier with the help of a mobile enterprise app.

Improve Business Processes
Businesses involve paperwork and fuss, and it is quite stress-free to handle all these things. But with the help of mobile enterprise apps, things became stress-free.

Different Types of Enterprise Mobile App Development
While talking about mobile enterprise, apps vary according to their features and architecture. Here we have different types of mobile enterprise apps that you should understand when you want to work on it:

Management Enterprise App
As its name describes, the management enterprise apps are made to manage all the tasks within the company or business. Some significant functions that enterprise mobile apps can handle are HR, CRM, ERP, and many more.

Team Collaboration Software Apps
With the help of the team collaboration software apps, it becomes much easier for the team to communicate. Some significant examples of such software apps are slack, asana, and many more. The main advantage of this software app is to make the team get connected.

Analytic Software Application
The analytic software application is very beneficial in processing the data and makes it useful for the companies. PowerBI, Tableau, and many more are excellent examples of such software applications.

Conclusion
At last, we hope that you have all cleared with the fantastic advantage of enterprise mobile app development for business. So, make your business great and effective with the help of mobile enterprise apps.