Magento Go or Shopify? Compare and make the right choice!
If you're planning to start an online shop, then using an e-commerce platform is a very good option, especially for those who do not have any knowledge about coding and want a readymade shopping site for their convenience.
There are lots of e-commerce platforms which provide the customers with various features and allow them to create a hassle free shopping website within minutes. Two of the best known e-commerce platforms used by lots and lots of people are Magento Go and Shopify.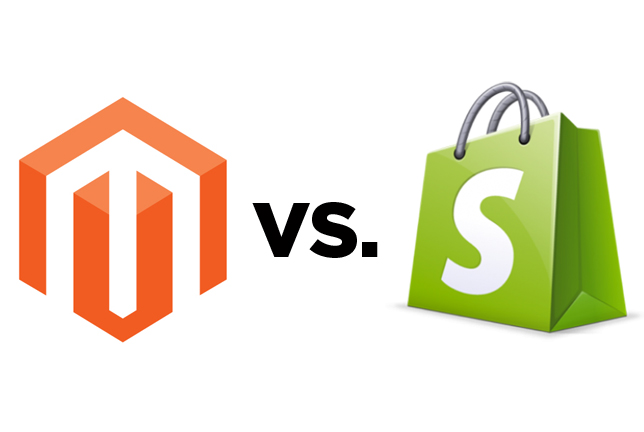 Both these platforms provide an easy to use interface in order to facilitate easy setting up of an e-commerce website and allow the new business owners to set up their online shop in the cheapest and the best manner. However, there has been a long standing debate over the credibility of both these platforms and people have often compared them based on several factors. Let us see some of the salient features of both the platforms in order to find out what they offer.
Magento vs Shopify?
If you compare both the platforms, you will find that both of them offer many different features to their customers. So let us start by comparing the various services provided by both the platforms to their clients.
| | |
| --- | --- |
| Magento Go | Shopify |
| Maximum limit of posting 10k products | Offers unlimited products posting |
| Allowance of 4GB to 32GB of bandwidth | Bandwidth offered is also unlimited |
| Storage space ranging from 200MB to 5GB | Storage space ranges from 1GB to unlimited storage options |
| Bandwidth overage charges of $10/GB of extra bandwidth used | No overage charge on exceeding the bandwidth limit. |
| No fee of setting up and also for transactions | No fees for setting up. Transaction fees is only about 2% |
| Plans starting from $15 and going as high as $150 for a month | Plans start as low as $14 and go up to $200 a month |
| Customer service to enterprise users | Comprehensive customer service and full time support to all the clients |
The comparison between Magento and Shopify clearly show that Shopify offers more features to its customers for a lesser price. While Magento has limits on bandwidth and products posting, Shopify does not have any upper limit, which is a favorable feature for any enterprise that has bright expansion prospects.
Moreover, Shopify offers a better UI than Magento and it is very affordable and easy to set up an online shopping site by using Shopify. But, being one of the oldest e-commerce platforms in the market, Magento does enjoy the reputation and respect among its customers and provides high quality services to its clients.
It is one of the most well known platforms for launching a lucrative e-commerce Shopify development company and has expert staff to help you with various issue related to the working of the website.
Thus, if you're not afraid of the costs and can work with the constraints, then you can utilize the trusted services of Magento, but if you're not high on budget and want to try a newer and fresher platform, then Shopify is the better option for you.