Building a mobile app is the first stage. Now it's time to promote your mobile app to the targeted audience.
It would help if you focused on app promotion to stand out from competitors. The more you promote a mobile app, the more app installs you will get.

Millions of apps are available on the app store, and this number is increasing daily. Unfortunately, it makes the app owner rank their app in the topmost position or makes it difficult to convert their regular traffic into conversion. In this case, the only thing that makes them promote their app is the app acquisition strategy. Whether you want to launch a new product or you are going to migrate your existing mobile application, then app acquisition strategies will be very much beneficial for you.

It is the thing that makes a particular app more profitable and result-oriented. And here in this post, we will all discuss how to promote a specific mobile app to target more and more audiences. So, let's crack the information below. Moreover, the above tips and tricks will significantly benefit you in improving or increasing downloads. Need help with how to promote your app? Here is the brand new marketing strategy for achieving the promotion goal that gives proven results.

Pre-launch marketing strategy to promote your mobile app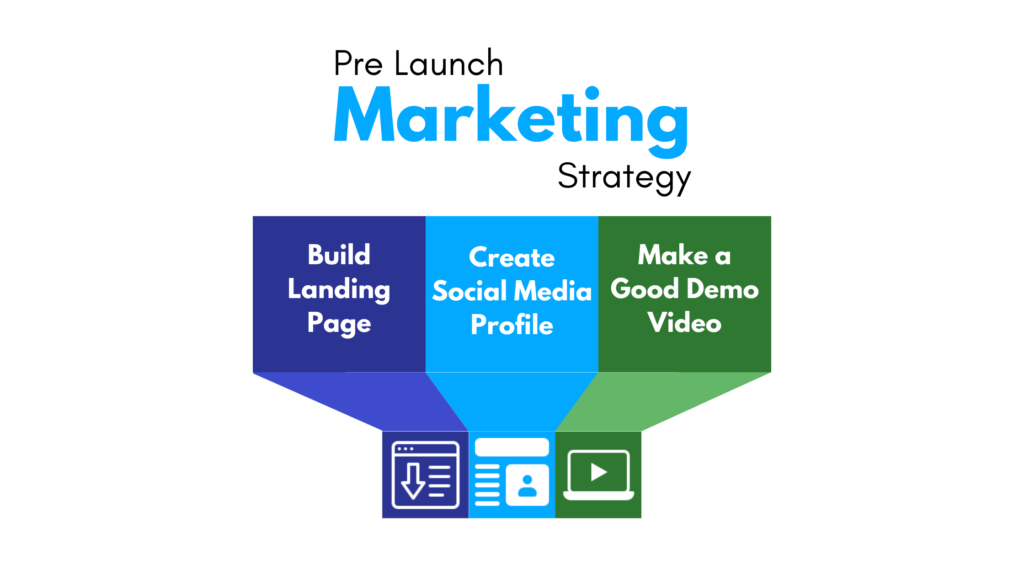 Build Landing Page
A landing page for every business is the best way to promote your app. A landing page will improve your presence, and it will enhance the credibility of your business. You can make a landing page for the target audience and ensure that the user will have an instant idea about your business with the help of the website. Once you are nearing the end of the development stage, start creating the landing page. It will benefit from collecting users' information. It also helps in page content to get app ranking on search engines.
Create Social Media Profile
Create your social media profile before launching your mobile app. Social media is the most important tool for promoting a mobile app. Find your targeted audience and which social media platform they used. The most popular platforms are Facebook (Meta), Instagram, Twitter, YouTube, etc. These platforms will help you post images and videos about the app and generate awareness.

Also, social media will help you connect with clients using paid and unpaid mediums. You can target an audience using multiple social media profiles involving Facebook, Instagram, etc. While you want to target people using the organic medium, you must follow people within the same category. Make sure you use a meaningful way to target your audience unless it makes your profile spam.

Make a Good Demo Video
It will be very beneficial if you want any featured videos or images to add to your app. Videos are better at driving engagement than images. A demo video is an excellent way to explain how your app works in action. Demo videos can be used in paid promotion and shared on social media platforms to grab more attention. You can also add 4-5 photos to your application to let the users know about it.

On the other hand, if you are targeting people with the help of paid channels, it will boost your app's searches and let you target people with the same interest. Facebook and Instagram are the best platforms to improve the audience and improve installs.

Post Launch a marketing strategy to promote your mobile app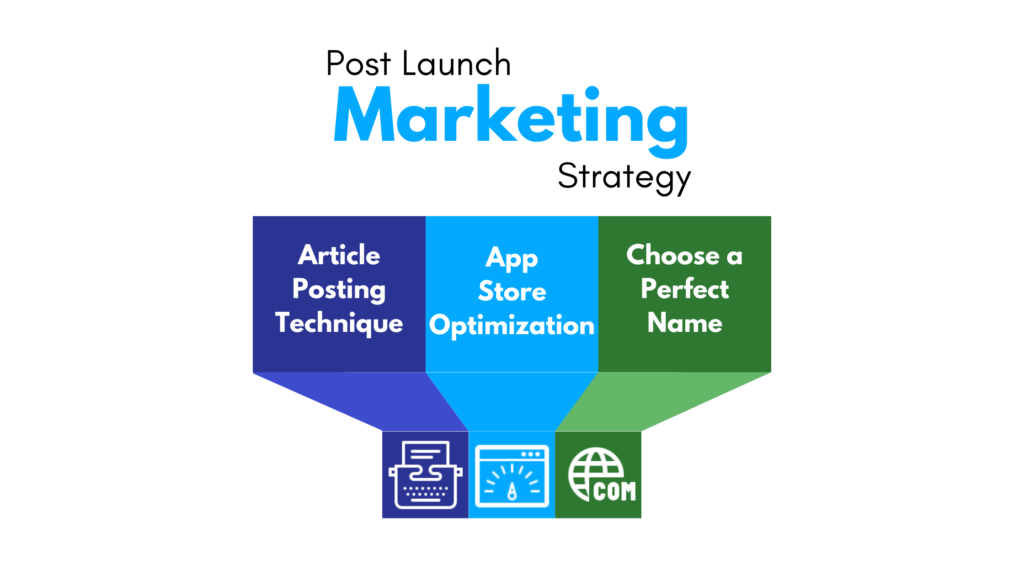 Using Article Posting Technique
A user & mobile-friendly website is the best way to generate organic traffic. Promote your app using web push notifications in the corner of the webpage. Here you can explain the features of the app in detail.

Also, blogging is one of the best marketing strategies for promoting your mobile app. Write user-centric content and tell them the uses of the app.

Websites and blogs help you build brand awareness, build authority and increase site visibility on search engines.

App Store Optimization
To promote your app organically, app store optimization (ASO) or search engine optimization (SEO) is necessary. This strategy helps increase ranking in apps like Google Play Store and Apple's App Store.

It is a great mobile app promotion strategy. It optimizes your app title & description, using videos, screenshots, and relevant keywords to get your app to rank in the organic search results. With these efforts, you will increase downloads, conversions, and sales.

Are many ways using which you can perform ASO for your mobile app, and here we have a few of them:

Choose a Perfect Name
A name is very much crucial for a mobile app. You must ensure that it will be easy to remember and resemble your business type. Besides this, it will be a unique one.
Add Keywords
Whether it is SEO or App, store optimization keywords play a vital role in both activities. So, choose keywords for your application wisely for the target audience.
Add Description
Make sure you add such a description, giving your audience an instant idea about your mobile application. You should need to update the description multiple times.

Influencer Marketing
Finding the perfect influencer in your niche helps reach ideal customers quickly. Use the influencer's social media profile to promote your app. You must identify your influencer by profile, followers, and personality.

If you have a small budget, you can also work with micro-influencers. With micro-influencers, you will also get good traffic and conversions.

Top 5 Free Websites To Promote Your Mobile App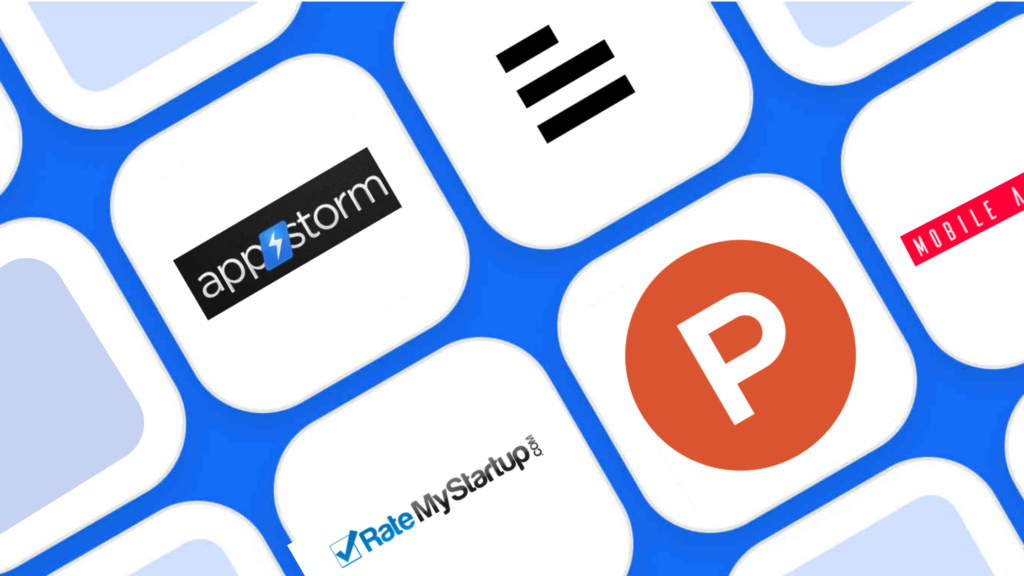 Check out the list of top free websites to promote mobile apps. These websites allow you to promote your app to potential users.

AppStorm: Get relevant reviews
MobileAppDaily: Get in touch with potential users
Product Hunt: best for apps, websites, and tech products
Beta list: Pre-launch promotion
Rate My Startup: Received genuine reviews & feedback
Shifted market pricing strategy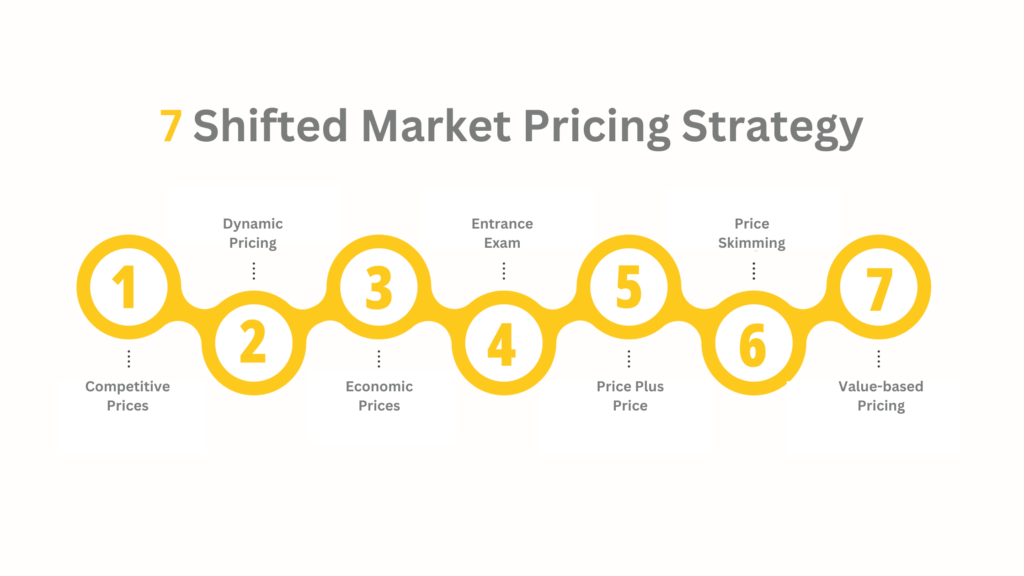 A shifted market pricing strategy is another marketing strategy used to manipulate pricing to compete with other products and services in the market.

Here is the list of the most common pricing strategy:
Competitive Prices
Dynamic Pricing
Economic Prices
Entrance Exam
Price Plus Price
Price Skimming
Value-based Pricing
Example of marketing strategies for cosmetics companies & beauty brands.
The beauty industry is growing every year. But after the pandemic, online sales play an essential role in generating more revenue. So, you have a marketing strategy that helps you get new customers and boost your store conversion.
Here is a list of top cosmetic marketing strategies you can use to grow your beauty brand!
Regularly create and post blogs
Collaborate with influencers
Build social presence
Promote with video
Paid Advertising
Email Marketing
Offer promotions and discounts
You can achieve your business goal by choosing the right product and using the perfect cosmetic marketing strategies.

Conclusion
The above tips and tricks will be very beneficial for promoting your application. So, when you are a new application and want to connect with more and more audiences, the above tips and tricks will benefit you. Irrespective of your application, the above tips and tricks will be essential.