The E-commerce website is becoming popular these days as they are the main and most convenient way of taking a business online. This website helps the company build a strong & large customer base which made it necessary for the organization to build its website in today's world. So we are here with an e-commerce website to help build a website in a few minutes by using various tools which would make your work easier and faster. Some of the Shopify tools are as follows: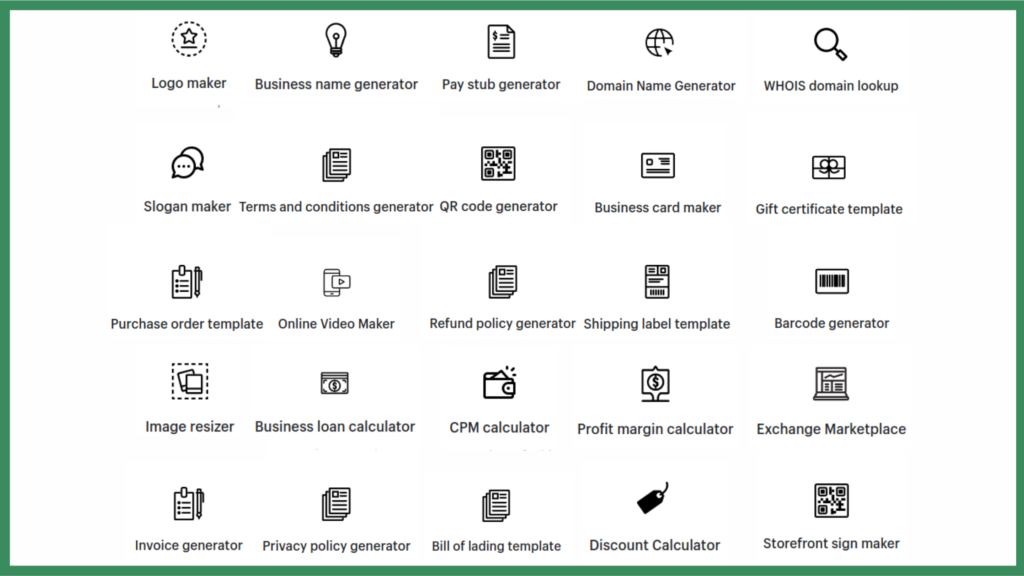 Logo Maker
The Shopify logo maker is one of the best logo maker tools among all ecommerce website developer websites. Firstly it is free to use so anyone can create logos for their organization free of cost without any experience. It provides us with a wide variety of logo templates according to your organization. It provides us with an easy-to-customize design studio which makes it much easier and faster.

Business Names Generator
It's quite difficult to find a name for the organization, but now Shopify had made it easy and faster for you, Shopify is here with a new tool. The Business Name Generator it's a 10 seconds name generator tool that would help you choose your organization name by generating various professional names for your business according to your requirement.

Slogan Maker
A slogan is very important in a business as it represents your motive more than the aim of your business that's why it is very important to choose a slogan for a business. Wisely as it is the first impression of the business over the customer and powerful slogan catches the attention of the customer, that's why Shopify is here with a new tool. 'The Slogan Maker' generates hundreds of slogans with just a click for your own business or to inspire you to make your own.

Domain Name Generator
A domain name is an address of your website that would help your customers to locate your website, that's why it is necessary to choose the domain name wisely. Now you can build a professional domain name for your website with just a click in a few seconds at free of cost by using Shopify's domain generator tool, which would help you generate your domain in a few seconds just by a click which will help you grow your business.

WHOIS Domain Lookup
Shopify comes up with a new tool that will help you choose your domain name as well as gives you information about other domains. You just have to search the name that you want as a domain name and it will show you all different varieties of a domain that haven't been used and those who are registered which is an important function that we always need to avoid coincidence in a domain name.

Online Video Maker
If we are building a website, blogging is essential but we cannot just fill the website page of an ecommerce website with just written content because it wouldn't be attractive for the customer. The website should be a balance of images, creative professional videos, and informative content, but then the question arises of how to create a professional moreover a creative video. That's why Shopify is here to help those with their tool, 'The Online Video Maker' which is meant to help you make professional & creative videos effortlessly and within a few minutes.

Pay Stub Generator
Now say goodbye to those expensive and complex pay stub maker software. Shopify is here with an amazing brand new stub generator tool that will help you create a pay stub that covers all income and deduction information in no time. you have to follow all the instructions provided on the website and your payment stub will immediately be e-mailed to you in a few sec.

Qr Code Generator
Shopify has brought a new tool for our use that's, 'The QR Code Generator' which generates a QR code for you to help you increase your sales by attracting your customer. This QR code helps us to get ourselves to any website, number, SMS, etc. in no time without any effort.

Terms And Condition Generator
We must keep terms and conditions to protect our website which is quite small and clear. But when someone is starting its website a question usually arises what terms and conditions should we keep on the website, so here Shopify has come up with the terms and condition generator that will help you generate simple, clear, and effective terms and conditions building a professional website.

Business Card Maker
The business owner should always have their own creative and effective business card because it's the first impression of the business over the Clint of the company, Shopify is here to help you with its various tools that would help you make a creative and professional business card in just a few clicks.

Gift Certificate Template
Every festive season most people buy various gift certificates for their relatives & friends, as a businessman you should not miss this opportunity due to lack of gift certificates. That's why Shopify is here with its gift certificate generator which is very easy to use and would help you create a creative and attractive gift certificate to attract your customers.

Invoice Generator
As you are here with Shopify it is here with a new benefit of its tools that is, 'The Invoice Generator' which provides you a free invoice of all the products that are being bought by the customer in a few seconds on your email so no need to worry.

Purchase Order Template
Shopify is here with another important tool that will help you maintain all the records of a seamless online transaction with your suppliers and help you track the remaining orders which will help you concentrate on your other work and will manage this work.

Privacy Policy Generator
Shopify's Privacy Policy Generator helps you set privacy policies as well as upload them on your website, so there is no need to worry about the privacy policies you can just rely on Shopify.

Shipping Label Template
It is necessary to have shipping label templates on the shipment of your organization and you are wondering how to create them, that's why Shopify is here to help you with its shipping label template tool that makes shipping templates ready to use in a few seconds.

Refund Policy Generator
It is essential to have a well established and maintained refund system in a company as it helps us quickly gain all the customer trust, which is very important in a business so this refund template tool will help you generate a professional level refund template that will help you gain your customer trust.

Landing Bill Template
Shopify is here with a new tool that's the 'Landing Bill Generator' that will help you make a clear, accurate bill for every landing shipment which will help you in your title transfer and accelerate your clearance procedure by which you can keep both customs officials as well as customers happy and satisfied.

Barcode Generator
We all know that barcode is very important on any product that would be sold but wondering, how to create a barcode that's where Shopify comes in to help you with its Shopify's Barcode Generator that will help you make professional barcode free of cost and quickly and easily.

Image Resizer
It is important to have images on your website you can't just fill the website with content and you can't just add any images on your site you need to have professional images of your product, that's why Shopify has come up with, The Image Resizer that will help you make professional images to post on any website any social media platform and its quite attractive.

Business Loan Calculator
Everyone in business has to take a loan at some point of time in your business journey, but you should always check that if you are taking a loan at the correct point of time and the right interest or not, it's very important to check it by using business loan calculator that will help you calculate all your debts and now you step up by taking a calculated risk.
CPM Calculator
Shopify is here with a new tool that's the CPM calculator that will help you calculate your income from your advertisement campaign and doesn't charge any penny from you and will provide you with a professional service.

Profit Margin Calculator
Shopify's profit margin calculator helps you calculate the profit margin of each product that you are selling and helps you set a price at which you will sell it, now you need to worry about the prices of your product just leave it on Shopify.

Exchange Market
Now you would be thinking we have the barcode, profit margin, selling price, but now the question arises where to sell these products. That's where Shopify comes up and helps you by suggesting various kinds of markets where you can sell products and earn a good profit.

Discount Calculator
Discounting is everyone's marketing strategy these days to increase their sales but they work hard to calculate the discount on each product they sell. That's where Shopify helps you calculate the discount of any product with just a click in a few seconds.

Storefront Signature Maker
The signature of an organization should be attractive, professional, and effective because it attracts the customer and which results in an increase in sales of the organization and keeps an impression on the customers.

These are all tools that are available on Shopify which would help you build a professional as well as a creative and attractive website for your business.
Softpulse Infotech is an organization delivering the most user-friendly and innovative eCommerce website design solutions to clients. For any business queries, feel free to get in touch.