Efficiency and productivity are essential for success in today's fast-paced digital environment, both personal and professional. We often repeatedly type the same words, emails, or comments, which may be tedious and time-consuming. However, there's a solution that can significantly streamline your typing tasks – the Smart Text Expander Extension. With intelligent text expansion capabilities, this powerful Chrome extension revolutionizes how you communicate and work online, saving you time and effort.
Many times throughout the day, we have to type the same thing repeatedly. The Smart Text Expander chrome extension can type out lengthy, repetitious words and sentences in seconds. It can enable you to compose lengthy phrases with little to no typing effort, saving you hours of busy work and assisting in reducing manual typing.
What is the Smart Text Expander Extension?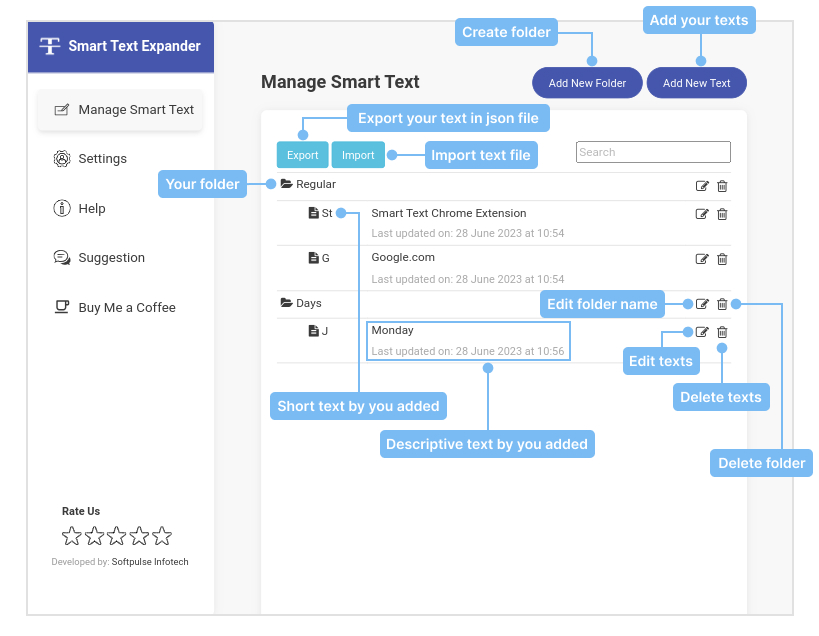 The Smart Text Expander Extension is a productivity extension designed for Google Chrome users. Its primary purpose is to help users avoid the tedious process of typing the same phrases repeatedly by automatically expanding pre-defined abbreviations or snippets into full-text replacements. The extension is easily and highly customizable, allowing you to create text shortcuts and manage existing expansions effortlessly.
Shortcut & Descriptive Text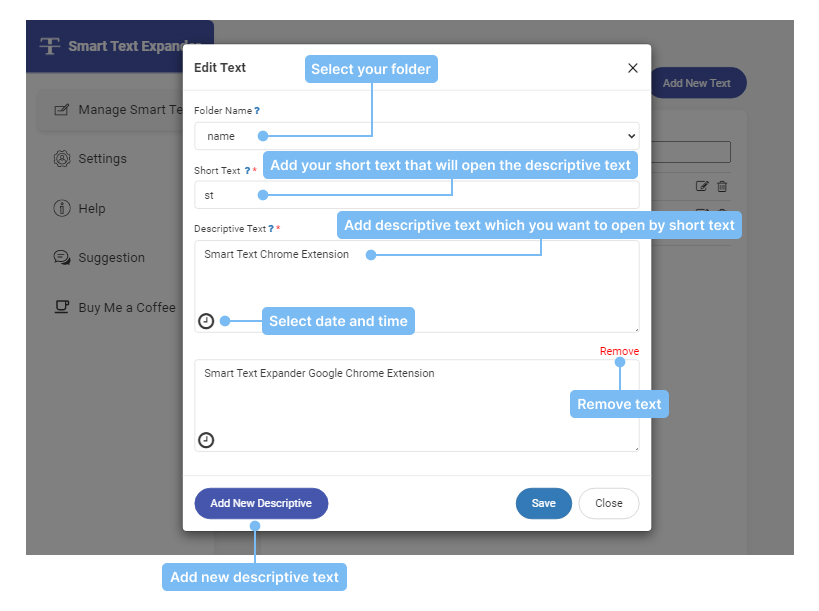 The extension offers you to add short text for typing less. Watch the shortcuts automatically expand into the complete text as you type them out. Type your short text in Google and press the ctrl+space-bar key. It will replace automatic in your descriptive text. You can add long paragraphs, sentences, URLs, and texts in the descriptive section. And You can add multiple texts if your description or sentences are more so. You were setting the date and time so you could see when you added the descriptive texts.
Create Separate Folder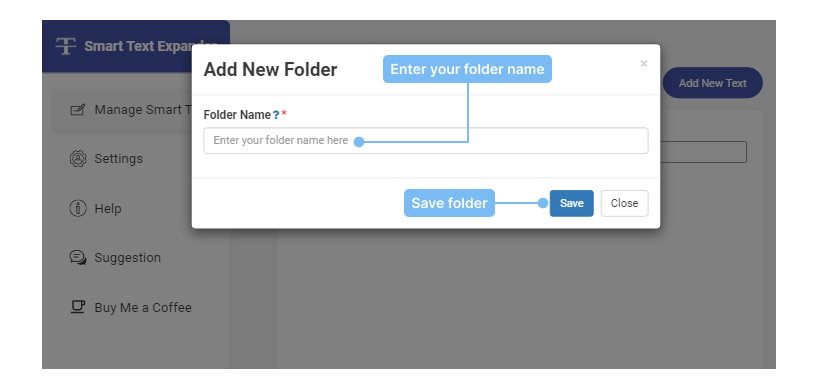 Organizing your frequently used texts into separate folders is an excellent way to enhance the efficiency of the Smart Text Expander Extension. If you have more text in the routine you must repeatedly open, you can create separate folders and add your texts folder-wise. The image shows you how to create separate folders for your texts.
Add Your Favourite Hotkey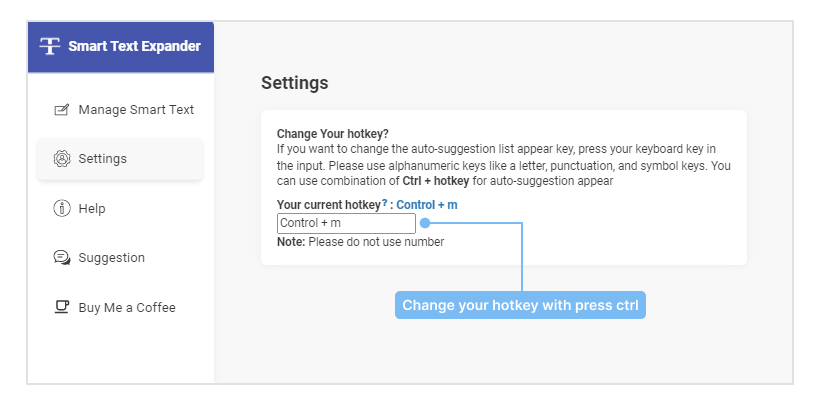 Customizing the Smart Text Expander Extension hotkey is a fantastic way to make it even more convenient and user-friendly. In the setting section, the default hotkey is ctrl+space-bar, but if you want to change this hotkey, you can change it by pressing ctrl and setting your favorite hotkey. Here's how you can change the default hotkey to your preferred combination.
Effortless Typing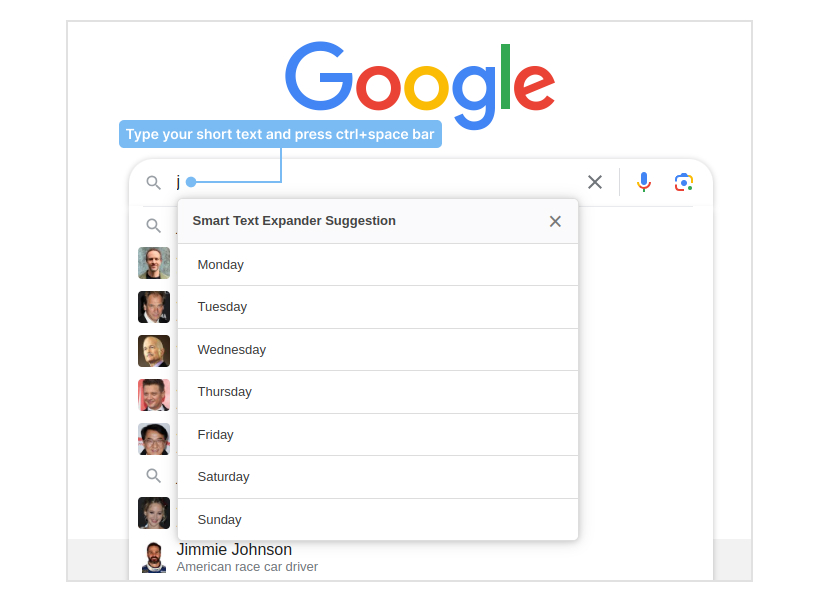 Indeed, the Smart Text Expander Extension offers a seamless and efficient typing experience that can significantly reduce the time spent on repetitive tasks. This extension automates the enlargement of frequently used texts, allowing users to concentrate more on important tasks and increase attention and productivity.
Advantages of Import and Export Options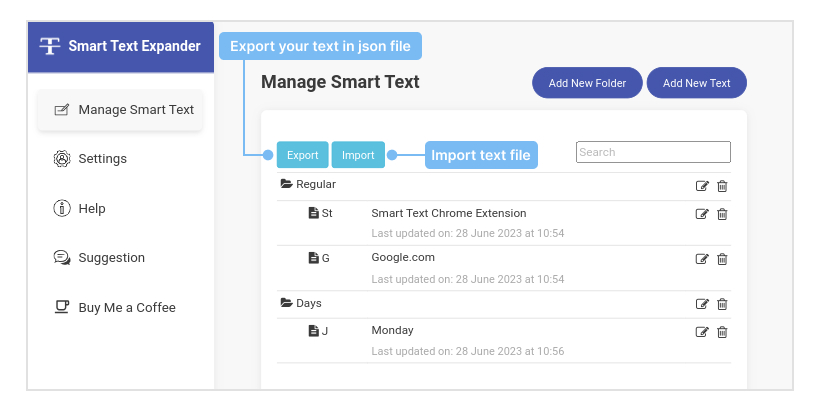 Including import and export functionalities in JSON format is a valuable feature of the Smart Text Expander Extension. These capabilities provide users with enhanced convenience, security, and efficiency in managing their saved texts and lessons. For saved lessons, you can import a JSON file to save time.
How useful is Smart Text Expander?
Time saver
The Smart Text Expander extension's most obvious benefit is the time it saves. You enter a few characters, and the extension takes care of the rest rather than continuously inputting the same sentences.
Flexibility
Communication must always be consistent, especially in working environments. This extension contributes to maintaining consistency in the language used among many systems.
Reduce Typing Error
The software reduces the possibility of mistakes or errors in typing by depending on predetermined phrases or sentences.
Conclusion
The purpose of the Chrome extension Smart Text Expander is to substitute a shorter word, phrase, or paragraph of text for a shortcut character, character combination, or symbol. Instead of repeatedly entering the same information, you can save time by simply typing the shortcut key combination, and the text will expand on its own. Why waste time typing the same thing repeatedly when you can let the Smart Text Expander Extension do the work for you? Softpulse Infotech provided a free "Smart Text Expander Chrome Extension" with effortless smart typing and saved time. Download it today from the Chrome Web Store and take your productivity to new heights!
Say goodbye to typing the same thing repeatedly and embrace the power of the Smart Text Expander Extension with organized folders! Consider hiring a skilled Chrome extension developer from Softpulse Infotech for even more possibilities with Chrome extensions.