The time of the year has come like, holiday time and this time is a stressful time in the E-commerce industry. Accordingly in 2018 Black Friday brought $3.7 billion to merchants, and every year as a result BFCM sales keep increasing, which is both great news and a headache for store owners.

Give yourself the best chance of success with these incredible apps, here are the top 10 Shopify apps and, in addition to this app bundle, we think every Shopify merchant should consider ahead of the holidays.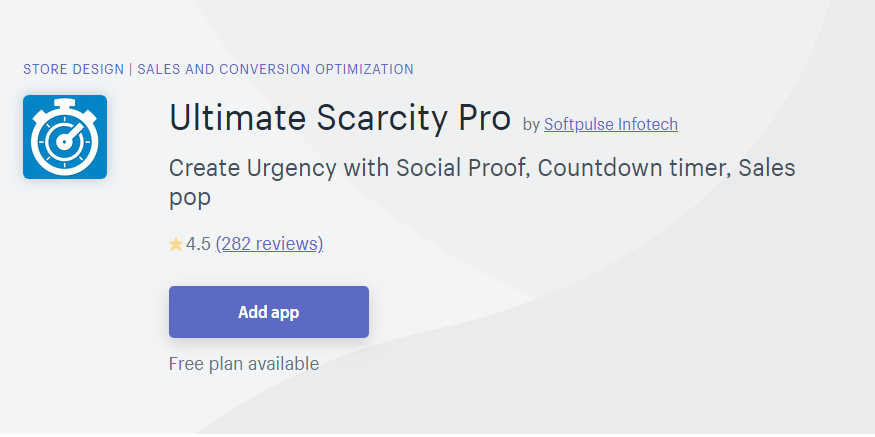 Price: Starting at $0/month
According to this app Ultimate Scarcity Pro is a Shopify app that creates a sense of urgency around your Shopify store. If you are planning to run a Black Friday sale with the limited time frame offers, the Ultimate Scarcity Pro app will be very handy for you. The app lets you set up different parameters such as countdown timers, product stocks availability bar, social proof, and many more. In brief summary and following are the key features of this app explained in detail.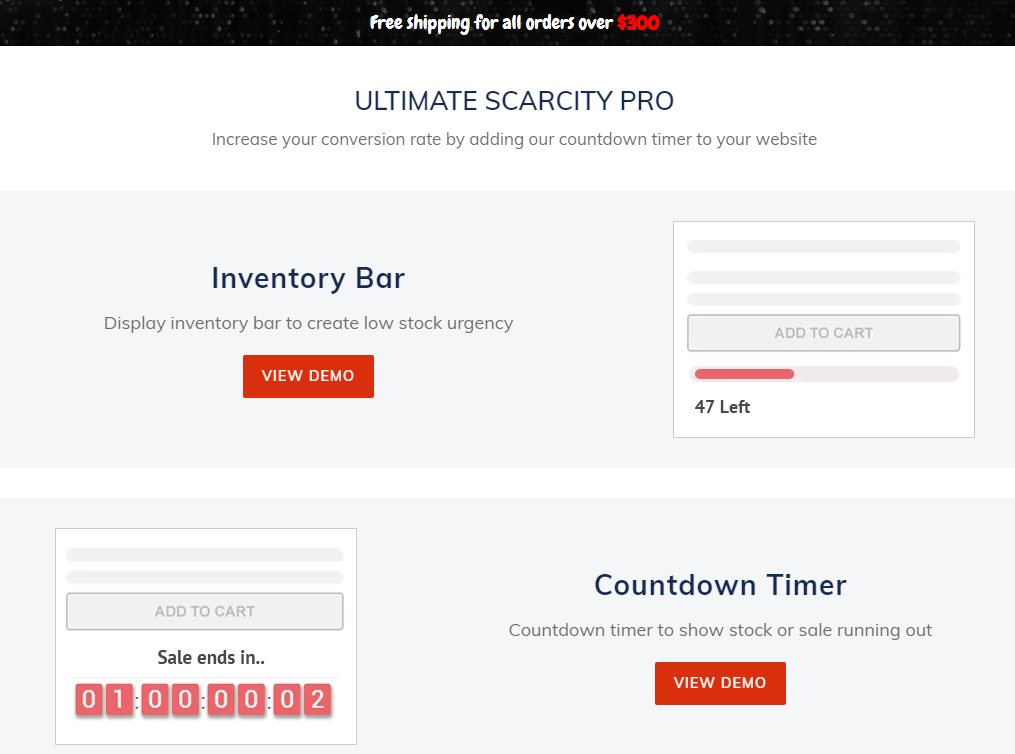 According to this app, you can create a count down timer for your discounts and also offers. When the offer expires, the timer will reset or expires as per your requirement. Thus, there are multiple template designs available for different types of offers.
There is an option for setting up the stock bar to reveal the availability of stocks for any product. The stock bar can be customized with different color schemes and multiple font selection options.
Especially these app provides you with an option to display the social proof of product pages. With this feature, you can display the number of page visits, the total number of sales and the number of time products added to the cart.
Therefore it is an option of setting up a Cart reservation bar. There will be a bar on the top of every cart. The bar will showcase the cart reservation message and timer of the expiration of the cart. You can decide whether to empty the customer's cart after some time or to leave it as it is.
Hence, you can set up a timer bar for discount code expiration or a timer bar for any in-cart product running out of stock.
With every site visit, you can set up a customized sale popup.
An option to display to the delivery time if the order is placed within a given time limit.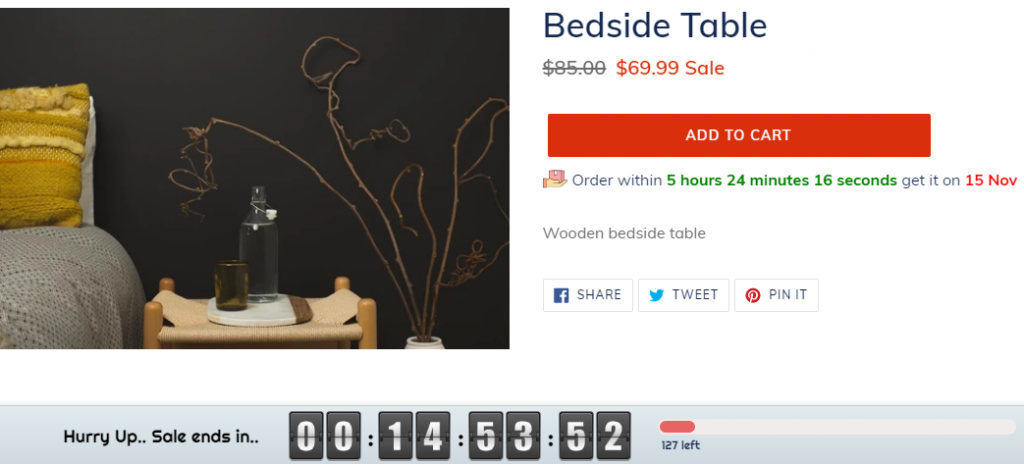 All of these options can be used to create urgency in the minds of buyers. To implement these features in your store, get the free version of the app now!!
---
Privy ‑ Exit Pop Ups & More by Privy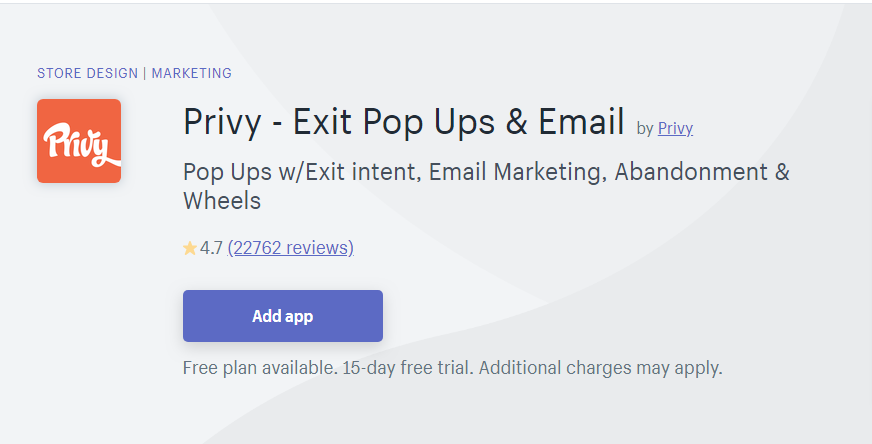 Price: Starting at $0/month (up to 5000 pageviews a month)
Well according to the Privy use of a huge number of small and large e-commerce businesses its the most reliable email marketing pop-up app that is available on Shopify and also it is a versatile app that will help you generate more revenue.
This app is a popular app amongst Shopify store owners for its free set of features. Integrated with Shopify and Shopify Plus, as an example, it offers lots of able functions that can help you grow in an instant, and you do not want any knowledge about coding or development to make them happen. Privy offer pop-ups, bars, spin to win, flyouts, banners, and more.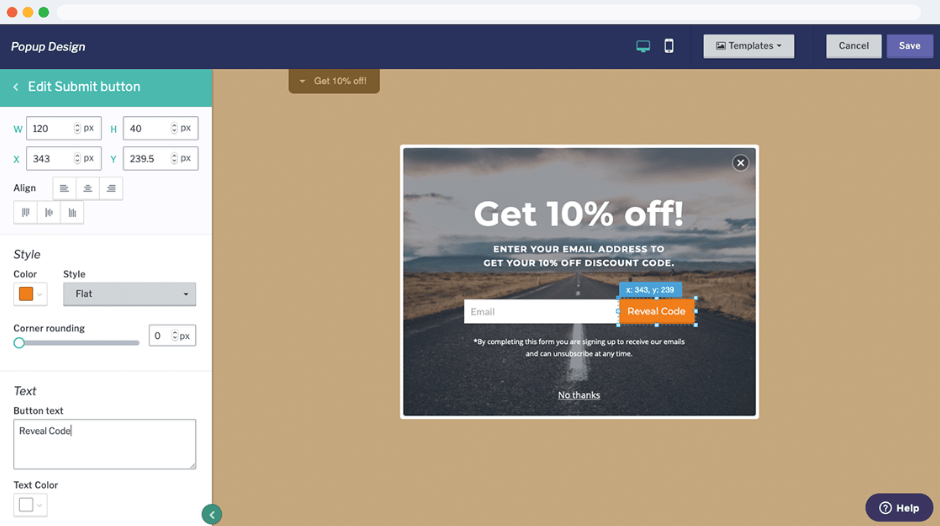 As a result there are beyond benefits to using the Privy app are they inviting popups, that get people to subscribe to your email list, create and distribute coupon codes, mobile-friendly, exit-intent technology, email autoresponders, A/B testing and more. People also prefer Privy app, because it provides a good solution for reducing cart abandonment and increase conversion.
---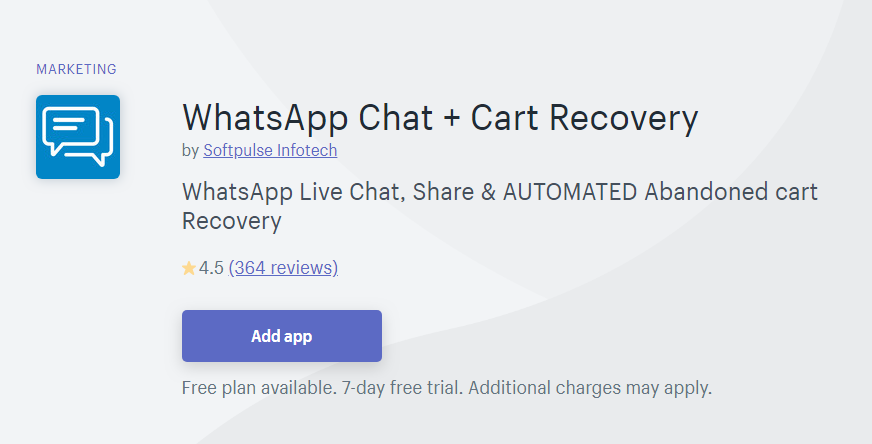 Price: Starting at $0/month
As the name of these app suggests, the WhatsApp Chat + Cart Recovery app can be very helpful for connecting with your buyers through WhatsApp. Accordingly, you can recover the abandoned carts in your store also this app helps you connect with your shoppers effectively by utilizing the WhatsApp. Here are the top features of this app.
Implementation of WhatsApp live chat button to your Shopify store with an unlimited chat option. Accordingly, a customer can interact with you directly from your website. Multiple customization options are also available for WhatsApp live chat button.
As an example with this WhatsApp share feature, your website visitors can directly share and promote your products and also including collection, and articles through WhatsApp.
You can recover the abandoned cart by sending the WhatsApp messages, text messages, call, and e-mail your buyers with a link to the abandoned cart.
There is an option to attract your customers by offering special discounts and offers to recover their carts.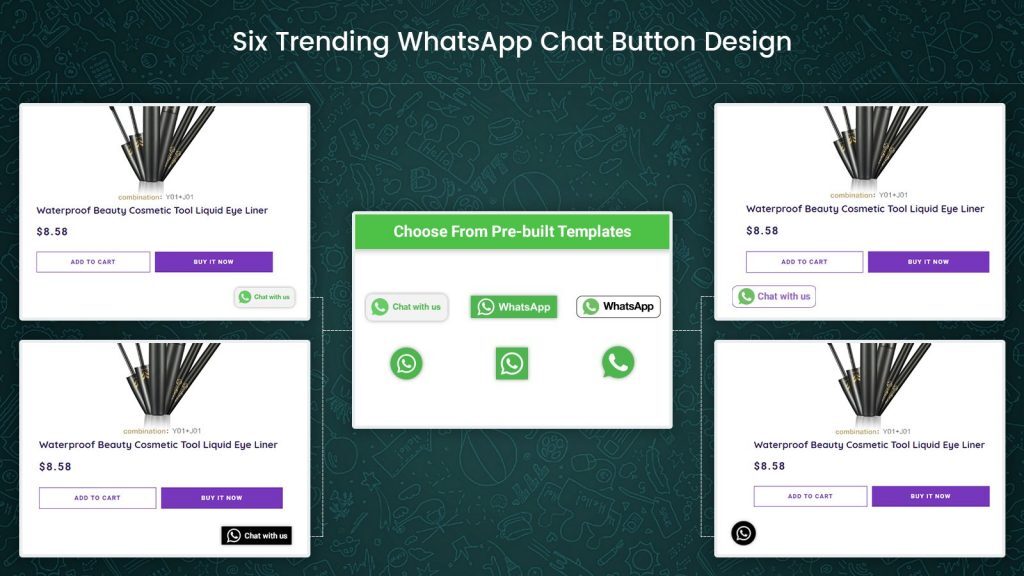 The WhatsApp is a widely used app for connecting. Leverage the functionality of WhatsApp by utilizing it for increasing the conversion on your Shopify store. Connect with your buyers and promote your products directly from this app. Additionally, recover the abandoned carts from your store by utilizing this app. Therefore there are some Beyond the features start the 7-day free trial of this app now!!!
---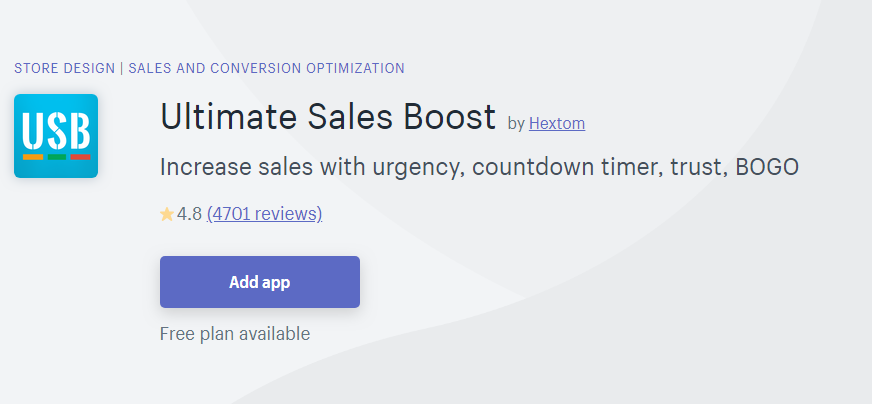 Price: Starting at $0/month
The Ultimate Sales Boost is what all the Shopify owners need for their stores and this app helping you optimize your store checkout flow or to maximize conversion rates.
In this app is very easy to install and also it is use for every E-commerce merchants because of the one-click installation. The app uses a countdown timer to create a sense of urgency and offer like BOGO to customers know what particular product they should click to catch the deal.
In this case some other benefits of this app like allow installing with one click, low inventory warning, message label, free plan available, provides trust badges and many more.
---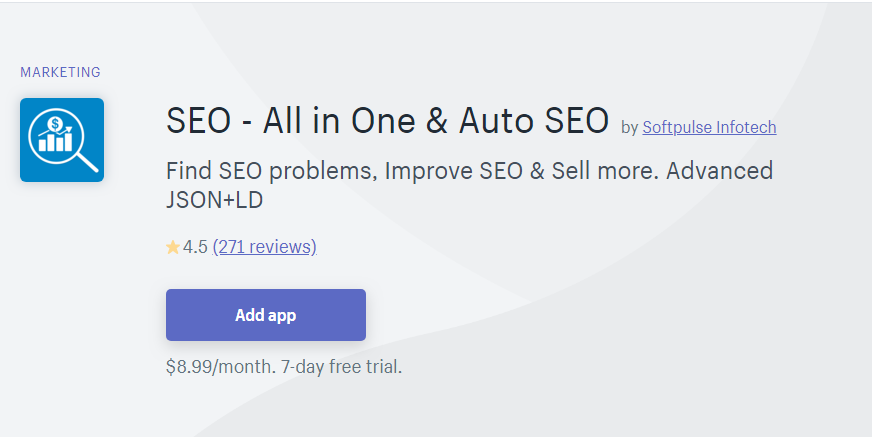 Price: Starting at $8.99/month
According to research SEO is the most critical factor in the success of any website. If your web store is well optimized as per the search engine's rules and guidelines, you can drive a lot of organic free traffic to your website. So in this app form Softpulse Infotech can help you with all your needs related to search engine optimization. So let's talk about all the leading features from this app one by one.
This app lets you know your Shopify store's Alexa rank, the performance of your keywords, and total social shares.
ALT text is very important for image optimizations. Increase your traffic from Google image search by using smart ALT text through this app.
Accordingly this apps Without any technical skills, the meta tags can be applied to thousands of your products just by saving one template.
Scan your whole website to know all the problems related to SEO.
For all the web pages of your store, the parameters like meta title, meta description, index, follow, and many more can be implemented through this app.
This app enables the Jason-LD the dynamically generated structural data. This data helps the search engine to understand the pages like product pages, articles, etc. In an easier way.
This app helps you solve issues such as broken links and 404 error pages by directly detecting them from the Google webmaster tool.
Additionally, features such as advanced meta settings, Google page speed checker, site map submission, different templates for title and description, mobile-friendly checker, Google search result simulator, index/no-index, follow/no-follow, and many more things can be done easily with this app.
With the help of engaging UI of the app, FAQs, and instructions, most of your website SEO be performed on your own.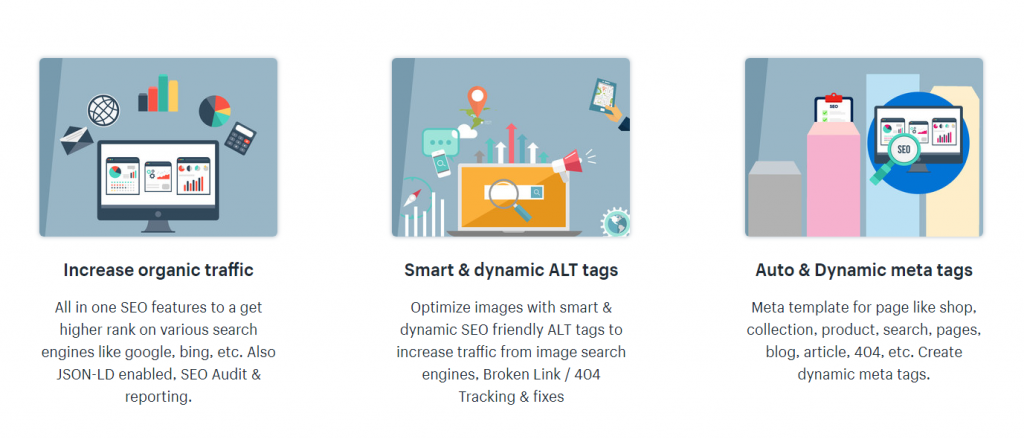 Therefore, to get the higher search engine traffic and sales, start the free trial of this app now!!
---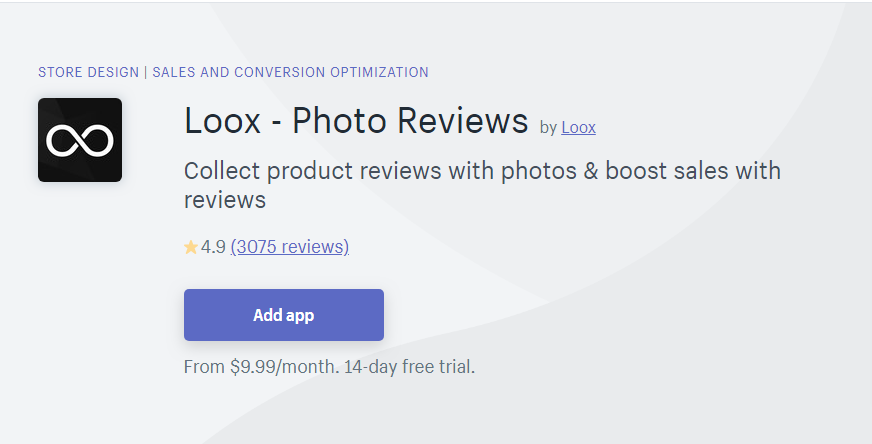 Price: Starting at $9.99/month
This great app "Loox" is a photo review app. It is very easy to collect and import photos review and show them on any pages of your store.
Regularly using this wonderful application, ecommerce merchants to collect visual reviews that customers can trust. In this app, the user can automate review requests according to a set schedule. And also you have one another great option to add powerful social proof. After this app's usage isn't only for limited to fashion stores also it can use for any type of online store where customers can submit their reviews.
Above all in this app, there are some of the benefits like, automatically request photo reviews from customers, one-click set-up, compatibility and customization, product rating widget and pop-up and many more.
---
Product Compare by Softpulse Infotech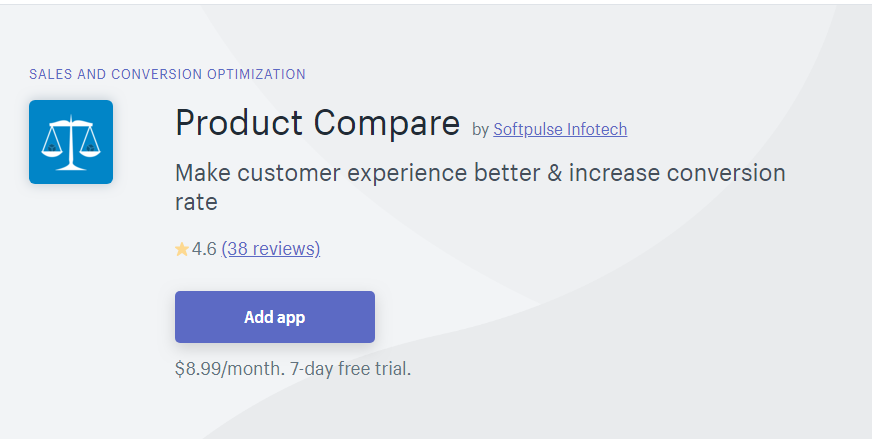 Price: Starting at $8.99/month
According to this app helps you implement a feature to compare products in your Shopify store. A Shopify store with several similar products can be benefited a lot from this app. So let's discuss the leading features provided by this app.
This app can help your visitors to compare and purchase the best product. Your buyers will be able to solve all of their doubts, and difficulties regarding your products. The app helps shoppers to make a well-informed decision.
A store with a large collection of similar products should install this app in their store. This app is easy to install, use, and customize.
By providing the functionality to compare different products, you are providing convenience to your buyers. They will choose your store for all their future needs.
To install this app from the Shopify app store, start your 7-day free trial now!!
---
Bold Discounts – The Sale App by Bold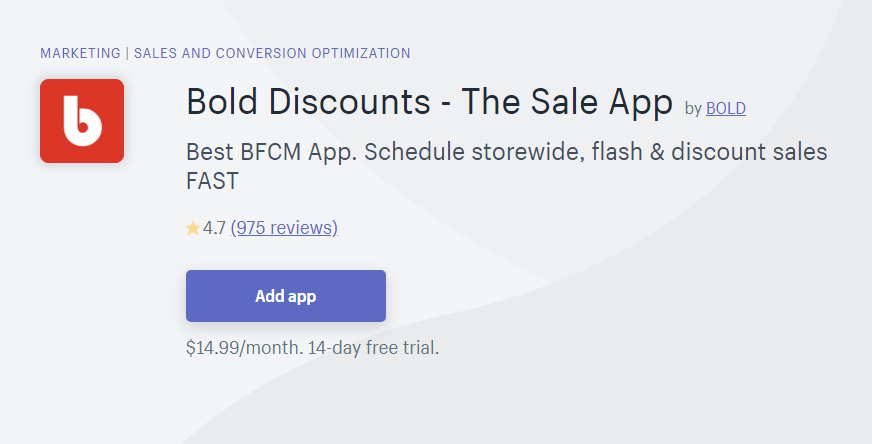 Price: Starting at $14.99/month
The Bold Discounts app can be really handy for you to run Black Friday and Cyber Monday sales. Under this app can help you set a discount for all the products throughout your store. The app will place the old prices of the products in 'compare at' price field. Also the buyers will know the difference between the original and discounted prices.
To avail the discounts, no discount codes or coupon codes are required. As a result the app shows the discounted price of all the products right away. The buyers don't have to look out for discount codes to get discounts. The app helps you increase your conversion rates drastically. Without any limits on the number of offers, you can create several offers such as discounts for specific brands or vendors, sale by product type or collection, sale on hand-picked products, and storewide sale.
Therefore, the app offers features such as creating sales clock, countdown timers, creation of daily deals page, custom buttons, deal of the day button, and deal of the month button. The app is an excellent choice for creating all the offers and discounts related to BFCM sales. To test all of these features, start your 14-days free trial now!!
---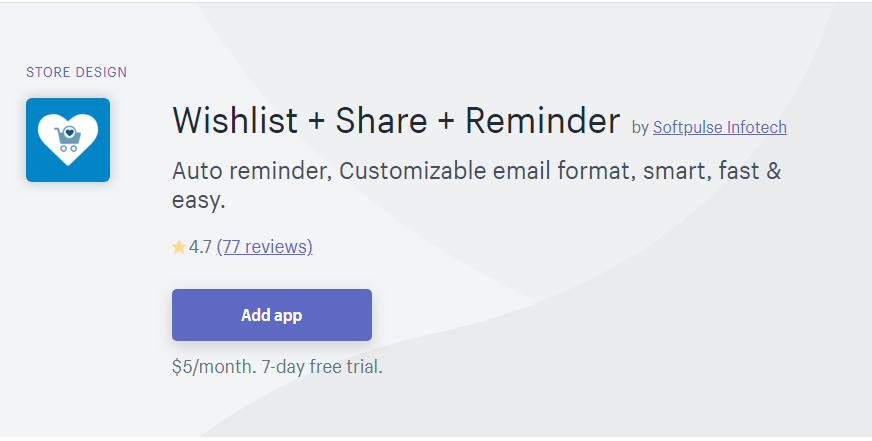 Price: Starting at $5/month
This app can be very useful to target the users with the wish list on your Shopify store. The app reminds your user about their wish list. The app sends daily, weekly, and monthly auto-reminder emails to your users. The following are all the leading features of this app.
The buyer will be able to see, how many other users have added the same product into their wish list. Therefore, different heart-shaped icons can be set up to add and remove a product from the wishlist.
The user can share their wishlist with their friends and relatives. Therefore, all of their friends will be able to see wish-listed products without any login.
The user will receive an email reminder about their wish-listed product. The content in the email can be manually added. The time interval of email reminders can be decided on a daily, weekly or monthly bases.
With all these advantages, they charge the most nominal price of only $5/month. To explore all the features of this app, start your 7-days free trial now!!
---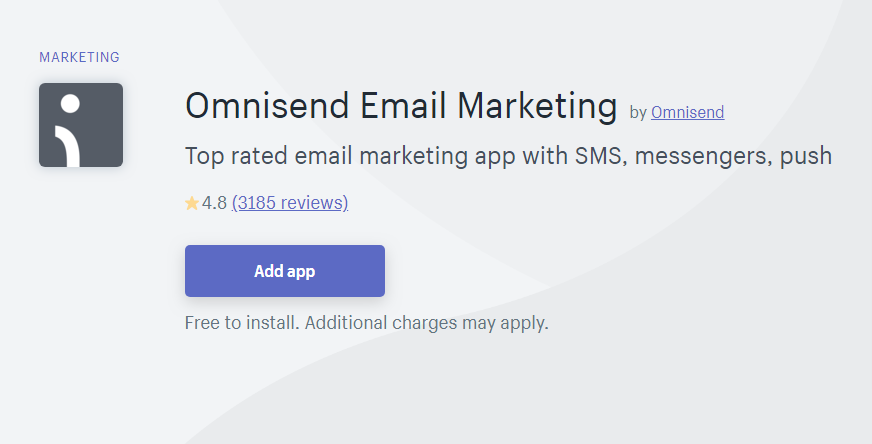 Price: Starting at $0/month
As the name suggests, this app provides a one-stop solution for all your needs related to e-mail marketing and all other forms of marketing. According to them, marketing automation can be done by sending the relevant message to the right person at the right time.
Omnisend Email Marketing app can help you to greet your customers throughout their journey on your web store and also it can help you with tasks such as greeting customers right after sign up, to recover the abandoned cart, and to send personalized post-purchase messages to drive repeated sales. They analyze customer's data, buying behaviors, and habits to create different segments to send targeted messages.
Also they help you design attractive signup boxes, pop-ups, customized landing pages, and exciting offers in exchange for their email. They help you create an e-mail list for you. Therefore, they are providing 24/7 technical support to solve all your queries. To automate your marketing campaign and increase your conversion, start 14 days free trial today!!
---
Conclusion

BFCM is the perfect time to generate maximum business revenues. They can help you a lot in achieving your business goals. If you are planning to skyrocket your sales during the upcoming sale season, use all these apps on your store and practice the best results out of it. As an entrepreneur, use these apps smartly to get the best out of these Shopify apps.


Softpulse Infotech provides the one-stop solution for all things related to Shopify. In addition, we have the top Shopify app development company and the most experienced team of Shopify developers and designers to deliver the best services to our clients. We can develop custom stores, themes, and apps for your business. For business inquiries, kindly contact our experts now!!