Top Reasons to Choose PHP Development for Website Development
These days, creating an online presence for your business is quite essential. An attractive and functional website is a must for any business to survive in this competitive market. PHP is the most favorable server-side scripting language, use for website and web solution development. It can use for developing static and dynamic web solutions. It speeds up the overall web development process with a high margin. PHP offers easy creation of dynamic, reliable, secure, and efficient web solutions. The overall web development process gets faster due to the tons of options and simplicity offered by PHP.
PHP has covered a broad market share. 83% of web services around the globe are based on PHP. The market leaders like Spotify, Tumbler, Wikipedia, and Yahoo are PHP based. The simplicity and functionality offered by PHP makes it one of the most popular platforms for website development. From well-established brands to emerging startups, PHP is the first preferred platform for their IT product development.
PHP has gained immense popularity among the developer's community due to its simplicity, quick turnaround time, customizable structure, affordability, and security features. The clean coding structure has made PHP the most favorable language by the developers. PHP is an open-source language. The large community of developers is continuously supporting and upgrading it. Here are our top reasons to choose PHP development for the development of web solutions.
PHP Open-source nature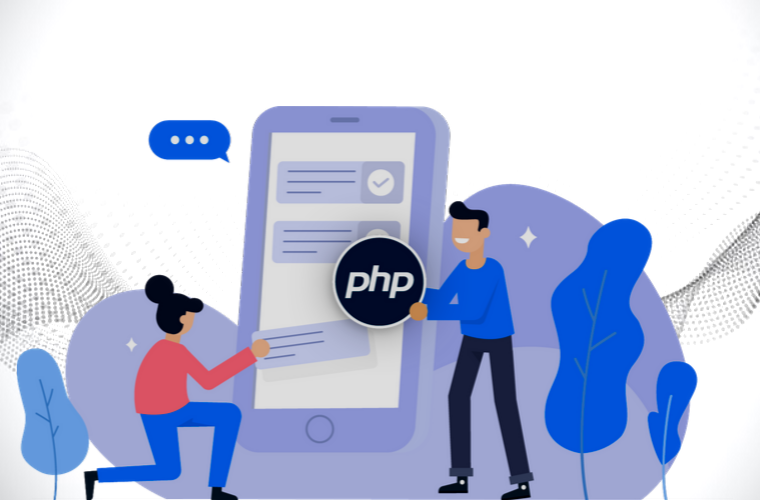 On PHP is an open-source language, licensing fees or any types of restrictions aren't there to using this scripting language it is distribut under a general public license. So these is free to use and anyone can use it to develop their website. Due to its open-source nature, it has wide support from a large and active community of developers around the globe. They are continually working to make it even better, customizable, and compatible with all the latest technological trends. The new updates and versions provide to it that makes it one of the most popular scripting languages.
Simple integration with the major CMS & servers
PHP is one of the most versatile and flexible scripting languages out there. Developing and designing a custom web solution is very easy with PHP. Several major CMS programs are design and develope in PHP. Major content management systems like WordPress, Drupal, and Joomla are PHP based. It is compatible with all major platforms from Windows, macOS, and Linux. PHP can execut quite well on any leading operating system. PHP's interface collides perfectly with MySQL. PHP supports most of the servers like Apache, Microsoft Internet Information Service (IIS), Caudium, and Netscape.
High Performing
PHP offers multiple functionalities which include, multi-browser compatibility, cross-platform versatility, and secure web apps. In addition to its versatility, PHP provides many secure ways to add an extra layer of protection against viruses and security threats. During the website development stage, PHP provides you the maximum control over your website. The website can design and developed completely according to your necessities. PHP offers a limitless number of extensions, for the simple development of any website. Additionally, the loading time of PHP is very less it, helps your web pages to load faster.
Effective Frameworks
PHP owns a wide variety of frameworks. The frameworks help a lot in designing a flexible and dynamic website. The framework helps a lot for developers to design and develop complex web applications in less time. CodeIgniter, Symfony, Laraval, Phalcon, and Zend are some of the good examples of framework diversity offer by PHP. These frameworks are built with good modular characteristics built-in support and strong support from the developer community around the globe. The developer community helps each other in the development of comprehensive web solutions.
Flexibility and functionality
PHP is an encrypted language that is very functional and simple to use. Web application programming with PHP can offer the most prominent flexibility and reliability features. This scripting language can easily program with Javascript, XML, WML, and other programming languages. For all of the businesses that need custom web solutions, PHP should be their first preferred choice. PHP reduces the total development time and resources considerably, and your PHP based IT product will start bringing ROI earlier.
Better website performance
These days, website loading speed is a very critical factor behind the success of any website. It plays a very significant role in user retention on your website. If the website speed is slow, then the user will immediately leave the website. PHP offers an outstanding turnaround time, quick data processing features, so many customization features, and easy integration with various custom management systems. PHP code can quickly embed within HTML. Which makes it easy for designers, developers, and team members to develop web solutions according to the custom needs of any business.
So many resources for simple web development
There is an enormous amount of tools available for developers. Tools are use to add specific functionality and features in a web solution. Tools speed up the web development process by a considerable margin. Apart from tools, PHP has so many dependance managers, editors, and documentation tools. There is so much documented content available on the internet to cover several questions of coders. And the vast support of the whole development community has always been there. All of these resources help the developers to meet the demands and expectations of their clients.
Conclusion
During the last few years, PHP and its frameworks have shown phenomenal growth and popularity. The cost-effectiveness, scalability, simplicity, and user-friendliness provide by PHP is just unbeatable. PHP has emerged as the most suitable server-side scripting language for the development of any IT solutions. If you want to create a secure and high performing web solution for your business, PHP should be your first preferred choice. These were our top reasons to choose PHP for your website development. We believe that all of your uncertainty regarding PHP should be resolved by now. If you still have any doubts concerning PHP, please let us know by commenting down below. Thanks for reading!!
Softpulse Infotech is one of the most experienced PHP web development service providers. Our web development team members have an individual experience of 7+ years in this industry. We can provide PHP web solutions custom-tailored according to your business requirements. Get in touch with us now.