Google Chrome browser has been the most popular for many years. Every day worldwide, around 252000 new websites are added on Google. Not necessarily, so all launched websites are good for us. Sometimes, many websites, for any reason, are bad or harmful to Google and its users. That's why users look for solutions that help block toxic websites. We have an easy solution for that issue: the Web Blocker Chrome Extension.
The Web Blocker extension can help you focus, be more productive, and be more self-controlled by blocking distracting websites temporarily. This extension allows you to block or unblock specific URLs that start with http, https, or www. Etc. Stay focused and boost productivity with its customized blocklist.
Why Need to Block Websites?
Users of Chrome may want to block websites for various reasons. It is common for parents to prevent their children from viewing dangerous websites. At the same time, businesses should stop workers from using social media sites like Facebook or YouTube at work.
Blocking distracting websites is a great technique for concentrating on a task and completing more work. There are many adult-focused websites on the internet, some of which do not require age verification. Make the internet a less hazardous place by restricting access to particular websites on Chrome. Hire Chrome extension developer.
How do you Block Unsuitable Websites on Chrome?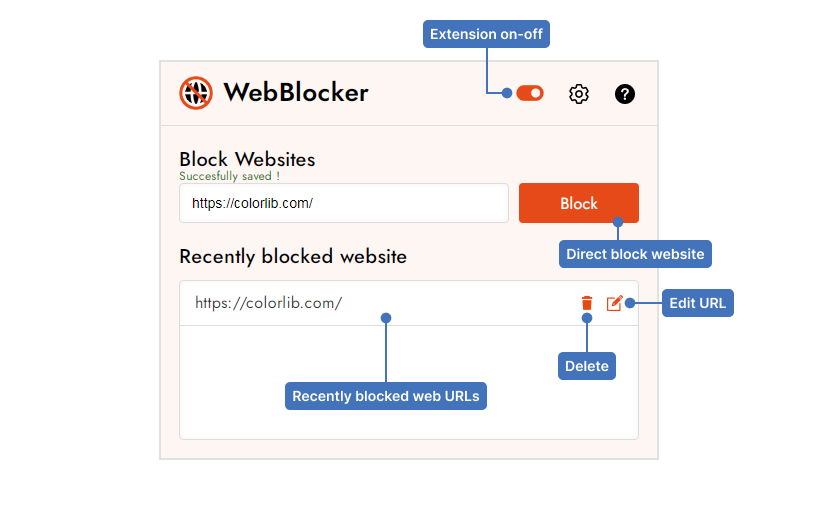 On Chrome, do you want to restrict websites? With our free Web Blocker extension, we have you covered. The best way to avoid distractions from websites is to add them to your block list. You can easily block websites in a second. Here are three simple steps below:
1: Open Chrome Web Store > Search Web Blocker > Add to Chrome
2: Click on extension > Add specific URL > Block
3: If you want to set a custom blocklist, you can set it by going to the setting icon.
Features Of Web Blocker Chrome Extension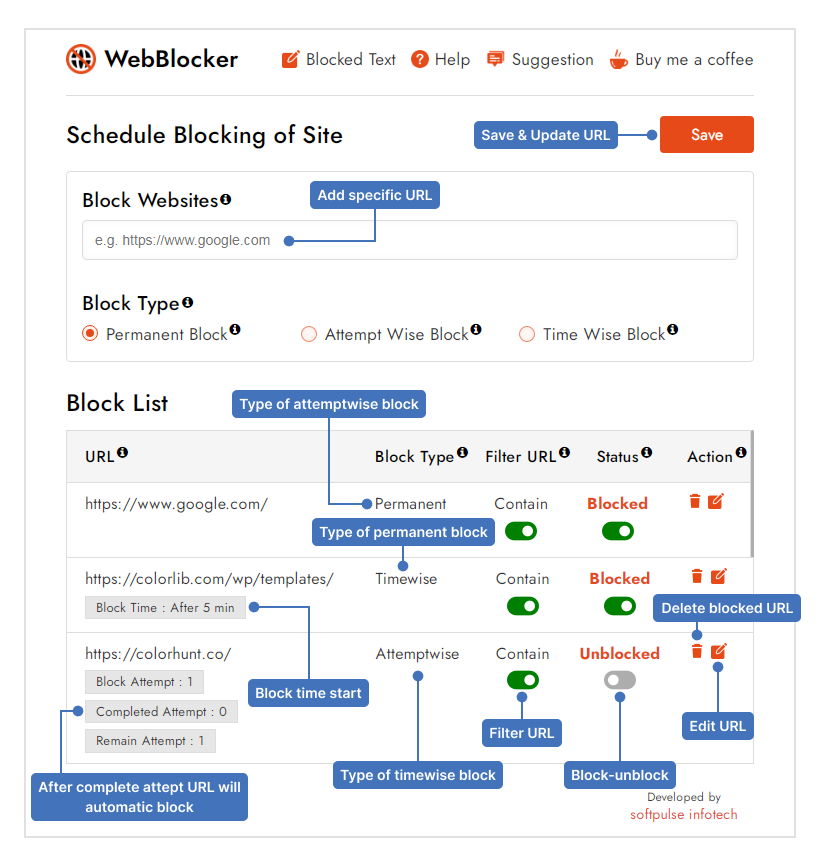 Direct Block from Current Tab
In a regular workflow, if you face any bad URL, you can instantly block it with a single step.
Types of Block
Here are three types of blocking URLs to effectively block URLs and enhance your browsing experience.
1. Attemptwise Block
This type of Block gives you a select option in number for website opening. The website will be blocked when opened or refreshed according to your selected number. You will see the remaining and completed block attempts.
2. Timewise Block
If you wish, the website blocks your work scheduled time. You can set time in minutes, hours, and days.
3. Permanent Block Website
Direct blocked websites from Chrome will be blocked permanently. After that, you need to unblock what you can. Also, it will give you a blocked URL delete.
Selected Days Options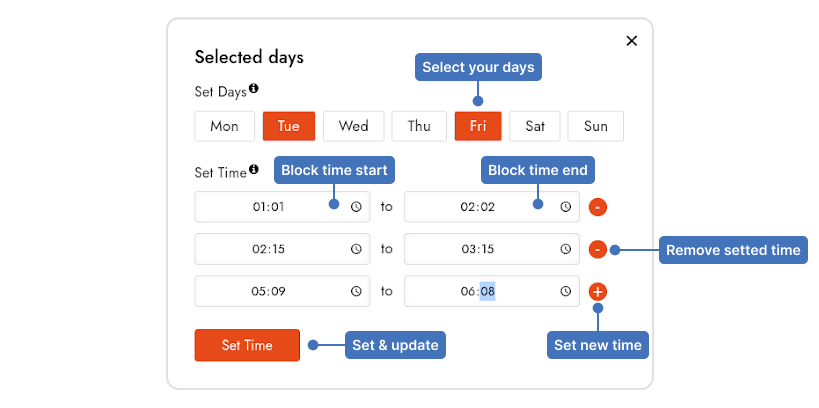 Utilize the "Selected Days" feature to designate specific days for initiating and concluding block periods. You can select multiple block times and effortlessly remove them as needed. This empowers you with flexible control over when the blocking functionality is active, easily adapting to your schedule.
Update Blocked Text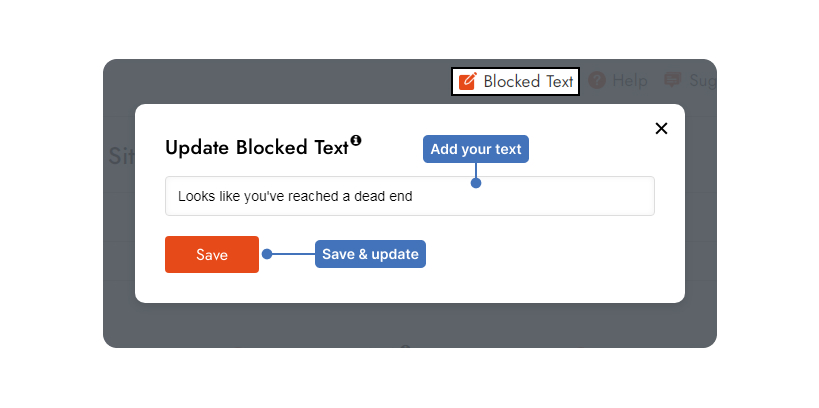 Inside the blocked text feature, there's typically a segment dedicated to managing blocked content. This is where you can define the message that appears when a URL is blocked. You can input keywords, phrases, or other content. Additionally, there's often an option to personalize the displayed message.
URL Filtering
Exact URL and contain URL type of filer. In this case, the actual URL means the blocked URL is the same as all tabs. It was found in all accounts that the domain and URL contained in the URL filter.
Final Words
You can use Chrome's built-in settings, blocking-specific Chrome extensions, or apps for blocking and focusing on securing a website. By using Web Blocker Chrome Extension by Softpulse Infotech to prohibit the browser from accessing and loading the forbidden websites, blocking in Chrome effectively restricts your access to them. This may increase efficiency and lessen interruptions.